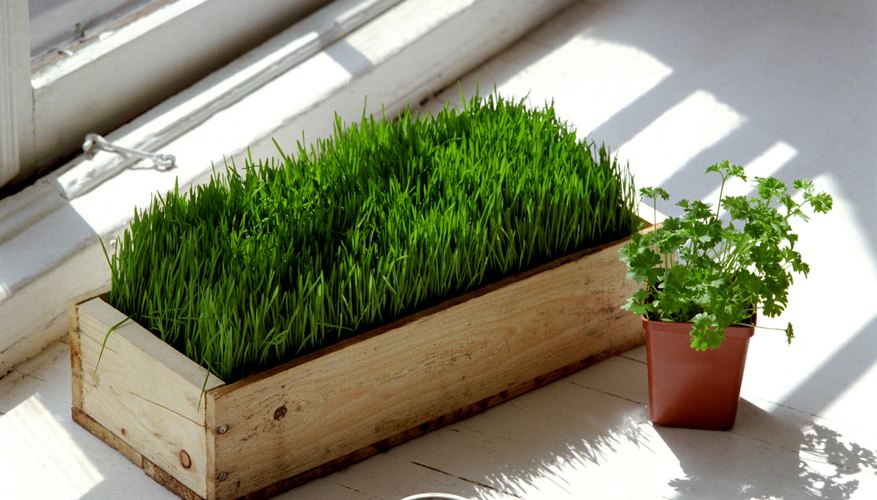 Creatas Images/Creatas/Getty Images
Photosynthesis is a complex process in which green plants and other organisms, mostly algae, transform light energy into chemical energy. In order for photosynthesis to occur, chlorophyll, a major pigment, and four accessory pigments must be present.
Pigments
A pigment is a molecule that absorbs certain energy, or wavelengths, of light and reflects all others. An accessory pigment is a light-absorbing compound that occurs in photosynthetic organisms, or repositories of energy, and works with chlorophyll a, which is the most important pigment that occurs in green plants. Some accessory pigments include forms of chlorophyll a, such as chlorophyll b, and others do not include forms of chlorophyll a, such as carotenoids.
Chlorophyll B
Chlorophyll b is an accessory pigment that helps plants absorb light used for energy. While chlorophyll b is not nearly as abundant as chlorophyll a, the molecular structures of the two are somewhat similar. Chlorophyll b is yellow in color, primarily absorbs red and violet light and is more soluble than chlorophyll a.
Carotenoids
Carotenoids are a class of accessory pigments that occur in all photosynthetic organisms such as algae and some types of fungus and bacteria. Carotenoids are often the major pigments in fruits and flowers. These accessory pigments are hydrophobic, or fat soluble; exist in lipid membranes; and generally are not manufactured by most animals, but rather obtained through the animals diet and used in many ways in metabolism. Carotenoids are red, yellow or orange in color and primarily absorb blue light.
Xanthophylls
Xanthophylls are another class of accessory pigments. These accessory pigments contain oxygen and are essentially oxidized carotenoids. Similar to carotenoids, xanthophylls are fat soluble; however, these accessory pigments do not absorb energy nearly as well as carotenoids. Xanthophylls are red and yellow in color and primarily absorb blue light.
Anthocyanins
Anthocyanins are a class of accessory pigments that are water soluble and remain in the vacuole -- an enclosed compartment within a cell -- of a plant. These accessory pigments are flavorless, odorless and occur in all tissues of higher plants including roots, flowers, leaves, fruits and stems. Anthocyanins are purple, red and blue in color, depending on their pH, or measure of their acidity or basicity, and primarily absorb blue, green and blue-green light.