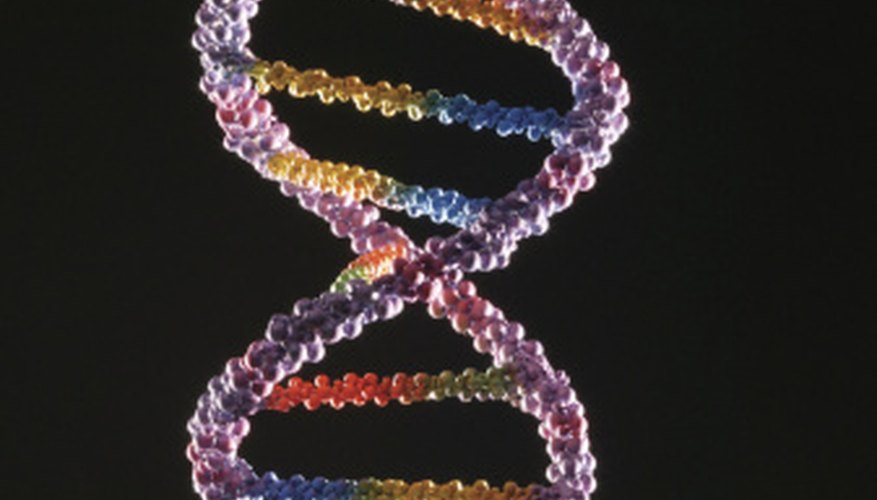 Comstock/Comstock/Getty Images
The genotype of a living organism represents the genetic code. It controls everything from the regulation of metabolism to the formation of protein, according to the Brooklyn College website. Finding the genotype ratio requires the use of a Punnett square. Reginald Punnett studied genetic in Britain and created the square used to predict the probability that an offspring receives inherited alleles. Upon completing the Punnett square with the alternate forms of genes called alleles, count the occurrences of each combination and determine the genotype ratio.
Create a Punnett square by drawing a grid. The columns represent the traits carried by one parent, and the rows represent the traits carried by the other parent. If the Punnett square represents one gene with two alleles, there should be two rows and two columns.

Assign letters to represent the alleles. Dominate alleles should have a capital letter, and recessive alleles should have a lowercase. For instance, blue-eyed dominate parent with a recessive may be represented by Bb.

Write the possible allele combinations from the first parent over the top of the columns. Place the possible combinations from the other parent next to the rows.

Bring down each allele from the top of the columns into the squares under it. Write the same allele from the row beside it in the squares beside it. For instance, if one parent carried the Bb and the other carried the hh, the combination for the offspring is Bbhh. This represents the genotype.

Write down each combination represented in the grid. As an example, if the columns have Bb and Yy, and the rows have hh and hh, the possible combinations are Bbhh, Bbhh, Yyhh and Yyhh.

State the ratio in numbers. Bbhh is listed twice, and Yyhh is also listed twice, so the genotype ratio is 2:2 or 1:1 in simplified form.

Tip

Use letters that are completely different to represent each allele. This prevents confusion. A homozygous allele has the same letters. For instance, homozygous dominate is HH and homozygous recessive is hh. Whereas heterozygous has different letters, such as Hh. Two homozygous parents will only produce a homozygous offspring.