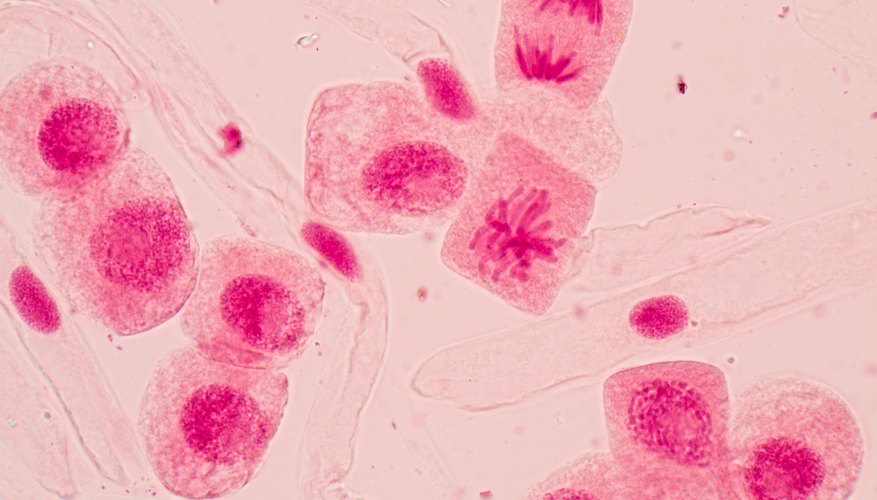 Most cells are constantly growing and dividing. This is controlled by the cell cycle, which allows a cell to grow, duplicate its DNA and divide. Mitosis is the process of cell division. There are several phases of both the cell cycle and mitosis. All of these phases must be completed without errors in order to ensure the health of the cells. However, errors in mitosis do occur and can have negative consequences.
Interphase
The cell cycle controls the growth and division of cells. It includes growth phase I, synthesis phase, growth phase II and mitosis. The two growth phases and the synthesis phase of the cell cycle are often referred to as interphase of mitosis. During the first growth phase, cells experience high metabolic activity and grow in size. In the presence of certain growth factors, cells progress to the next phase of the cell cycle, during which the DNA is replicated, resulting in two sets of DNA. After DNA replication is complete, cells undergo another period of growth, and in the presence of appropriate growth factors the cells begin the phases of mitosis.
Prophase and Metaphase
Cell division begins during prophase of mitosis. During prophase, the DNA condenses into chromosomes and fibers begin to extend from the centromeres, the part of the chromosome that links the two arms, or chromatids. The nuclear membrane begins to dissolve during prometaphase, and microtubules attach to the centromeres to direct movement of the chromosomes. During metaphase, the chromosomes move to the center of the cell and are aligned in an area known as the metaphase plate.
Anaphase and Telophase
Anaphase is the phase of mitosis during which the chromosomes begin to move toward opposite sides of the cell. The mictrotubules attached to the chromosomes shorten, drawing the chromosomes closer to centrioles at the poles of the cell. The chromosomes move towards the centrioles in a way that one chromosome from each pair moves towards each pole. During telophase, the chromosomes reach the poles and new nuclear membranes form around the chromosomes, creating the nuclei for two new cells. The chromosomes decondense and the cell splits into two daughter cells, each with a nucleus.
Errors in Mitosis
Errors in mitosis normally occur during metaphase, when the chromosomes align at the metaphase plate. If the duplicate chromosomes do not pair properly at the metaphase plate, the pair will not move properly to each pole during anaphase. This results in one cell having two copies of the chromosome, while the other cell has none. This type of error is normally fatal to the daughter cell lacking a copy of a chromosome. Cells receiving two copies of a chromosome will have an increase in expression of the genes contained on the extra chromosome. If the genes function to slow growth, the extra copy may be fatal to the cell. However, if the genes promote growth, the cell may grow uncontrollably, leading to cancer.