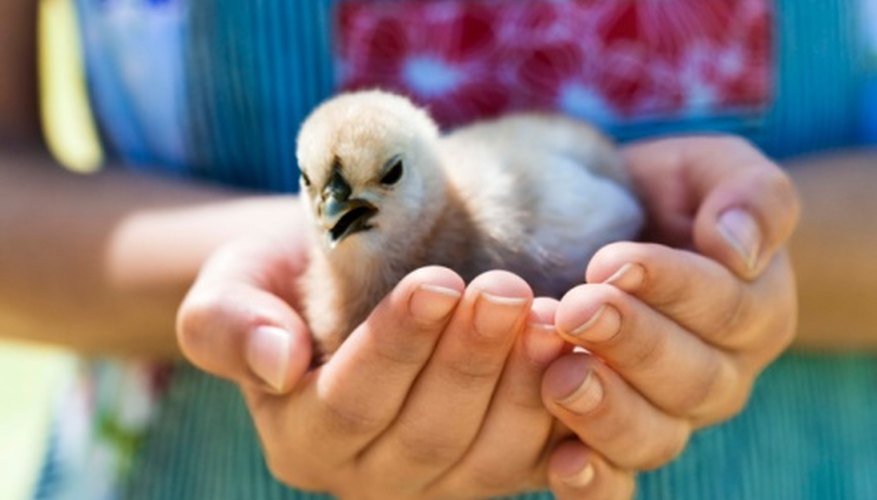 Jupiterimages/BananaStock/Getty Images
The Little Giant Still Air Incubator 9200 is used to hatch eggs by raising the normal room temperature to an appropriate hatching heat. It has the capacity to hold 118 quail eggs, 40 duck or turkey eggs, 90 pheasant eggs or 46 chicken eggs. At the appropriate hatching temperatures and depending upon species, eggs hatch after 17 to 28 days in the Little Giant Still Air Incubator 9200.
Install the Little Giant Still Air Incubator 9200 in a room with a temperature between 65 and 72 degrees Fahrenheit. Place it in an area void of wind drafts or direct sunlight.
Plug the power cord into a surge protector. Plug the surge protector into a 110-volt ground fault circuit interrupter protected outlet.
Sciencing Video Vault
Create the (almost) perfect bracket: Here's How
Regulate the incubator temperature. Turn the thermostat control knob fully clockwise until the red indicator light turns on. When the thermometer reaches the egg species-appropriate hatching temperature, turn the control knob slowly counter-clockwise until the desired temperature is maintained.
Run the incubator for six to eight hours at the desired temperature before adding eggs.
Fill the moisture rings at the bottom of the incubator with water. This will keep the eggs moist after they are added.
Use a lead pencil to draw an X on one side of each egg and an O on the other side of each egg.
Lay the marked eggs horizontally on the incubator's wire mesh screen. Close down the top of the incubator so the thermometer is on top of the eggs and can be read through the window.
Roll the eggs with the palm of your hand from the center outward and from the edges to the center of the incubator mesh screen two to three times per day after - Day 1 of the incubation period. Your X and O markings will help you remember which eggs were rolled. Do this up until three days before hatching.
Remove both of the incubator's ventilation plugs three days before hatching. Keep the moisture rings filled to increase humidity. Open the incubator when the chicks are hatched.
Tip
Store eggs at 50-55 degrees Fahrenheit until ready to incubate.
Wash hands with antibacterial soap and water before handling eggs.
Attempt to hatch only one egg species at a time.
Eggs need two to three hours to reach incubation temperature.
The Little Giant Still Air Incubator 9200 is compatible with the Little Giant Model 6300 Automatic Egg Turner.
During the incubation process, keep the moisture rings filled with lukewarm water.
As eggs begin to hatch, remove one of the red, plastic vent plugs at the top of the incubator for air exchange.
Chicken, bobwhite quail, duck and pheasant eggs hatch at 99.5 degrees Fahrenheit.
Turkey and cortunix quail eggs hatch at 99 degrees Fahrenheit.
Warning
Do not open the incubator on the first day of incubation.