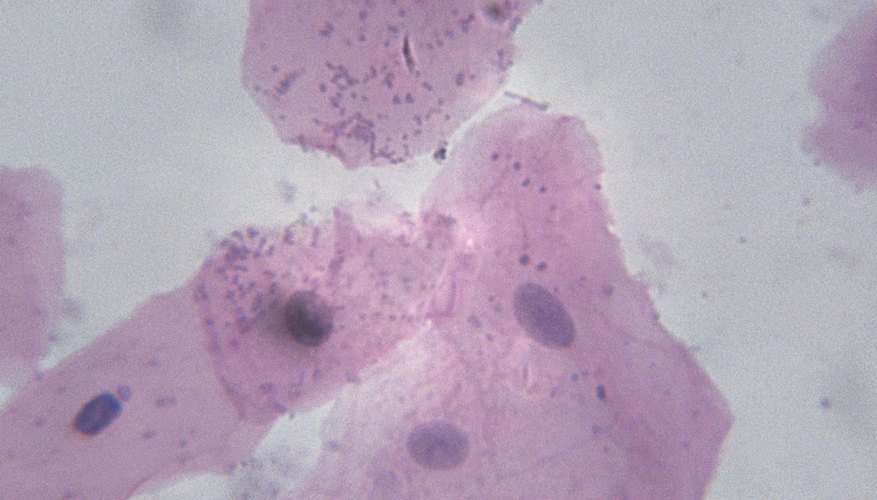 Duncan Smith/Stockbyte/Getty Images
Cell division is a complex process that requires a lot of energy to pull off. Many proteins are required to move molecules, filaments, membranes, and DNA in appropriate ways that do not result in damage. Thus, internal factors that influence cell division include the availability of energy molecules -- in the form of ATP, the integrity of replicated DNA, and the integrity of the protein machinery that does the heavy lifting. Lastly, damaged cells, mutant cells or old cells can enter a dormant state that prevents them from undergoing cell division.
ATP Levels
Adenosine triphosphate (ATP) is an energy molecule that cells use to power the protein machines within them. Cells cannot function without ATP -- it's like a car without fuel. AMP-activated protein kinase (AMPK) is a protein that senses ATP levels within the cell. When ATP is used for energy, it is broken down to AMP (adenosine monophosphate). Having lots of AMP is a sign that the cell is low on energy. AMP binds to and helps activate AMPK. Once activated, AMPK causes the cell to stop growing and dividing, so that it has time to make more ATP.
DNA Damage
Successful cell division requires that a cell's DNA content is duplicated and evenly divided between the two daughter cells that result. If the DNA is damaged in some way, the cell will not continue the process of division. The cell will stall the process to give itself time to repair the damaged DNA. Exposure to chemical agents and certain types of radiation (like ultraviolet light and x-rays) can result in DNA damage by causing errors in DNA duplication.
Unfolded Proteins
A cell lives by making proteins inside it. These proteins do the day-to-day work of moving things, breaking things and building things. However, each protein needs to be folded into a special shape in order to function. When there are too many unfolded proteins in a cell, the cell knows that there is a problem. The unfolded protein response (UPR) is the way in which the cell detects that too many proteins are unfolded. The UPR causes the cell to arrest, meaning it will not grow and divide until the problem is fixed.
Senescence
Normal cells only grow and divide when they are healthy and have intact DNA. When cell undergo stress due to environmental chemicals that harm them or mutations that naturally arise, they stop what they are doing and start a repair process. If the repair process is unsuccessful, the cell then decides to kill itself or enter into a dormant state called senescence. Senescence is also a form of cellular aging that happens naturally over time. Senescence is an internal state in which cells can no longer divide.