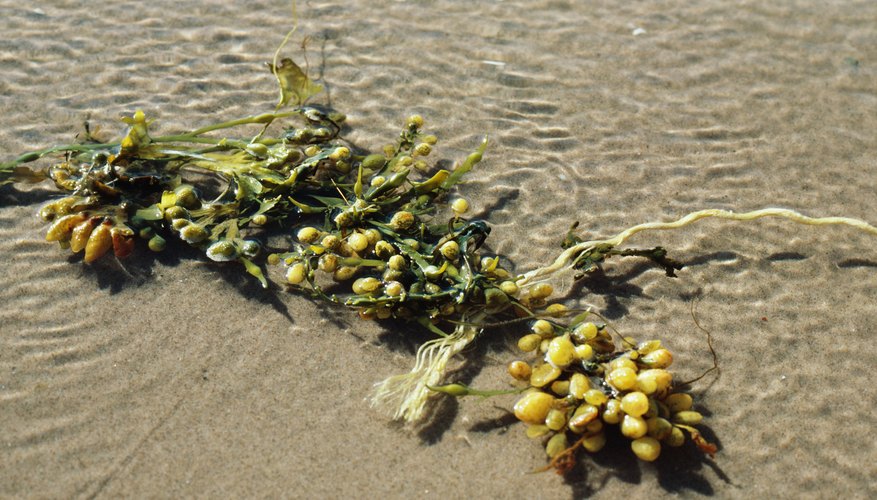 Photos.com/Photos.com/Getty Images
Kelp, a type of brown algae, is a multicellular organism composed of cells with nuclei. These cells divide and produce replacement and growth cells during the life cycle of a kelp organism through the process of cellular division. Some of these cells divide to produce cells that are not identical to the parent cell and contain half the genetic material. These are called male or female zoospores. The zoospore matures and creates daughter cells that are either eggs or sperm. Therefore, kelp have three cell types, cells for growth and maintenance, male or female zoospores, and eggs or sperm.
Cells for Growth and Maintenance
In order to grow the organism, kelp cells must reproduce themselves by the process of division. A cell duplicates it's genetic material and then divides, producing two daughter cells that are identical to the parent. These cells are essential for the growth, repair, and replacement of old cells of the organism.
Zoospores: Cells That Grow into Reproductive Algae
At a stage in the kelp life cycle, some cells mix and divide their genetic material into daughter cells that contain only half the genetic material of the parent cell. These cells become zoospores. They grow into either a male or female algae (called a gametophyte) whose cells still contain half the genetic material. Zoospores differ from egg and sperm in that they cannot join together to merge their genetic material and produce a new kelp organism. Zoospores can be thought of as similar to seeds in land plants.
Cells That Produce Egg and Sperm
Zoospores grow and duplicate their cells in the same fashion as the cells in the original organism, but these cells still contain only half the genetic material. Upon maturation, the grown zoospore releases cells into the watery environment. These are now called either an egg or a sperm, depending upon whether they came from a male or a female zoospore. These cells have membranes that are permeable and will allow them to eventually unite and form an organism with the full amount of genetic material, although they may have come from different original organisms. This is sexual reproduction, which allows for a mixing of genes to produce a new organism with a different genetic make up.
Kelp Alternation of Generations
This life cycle and the three cell types that are involved is what is referred to as alternation of generations. The multicellular organism with a full set of genetic material in its cells produces a multicellular organism with a half set. That generation produces the sex cells, which eventually unite and produce another generation. The entire kelp life cycle contains cells with full genetic materials, cells with half the materials, and sex cells that are able to reunite.