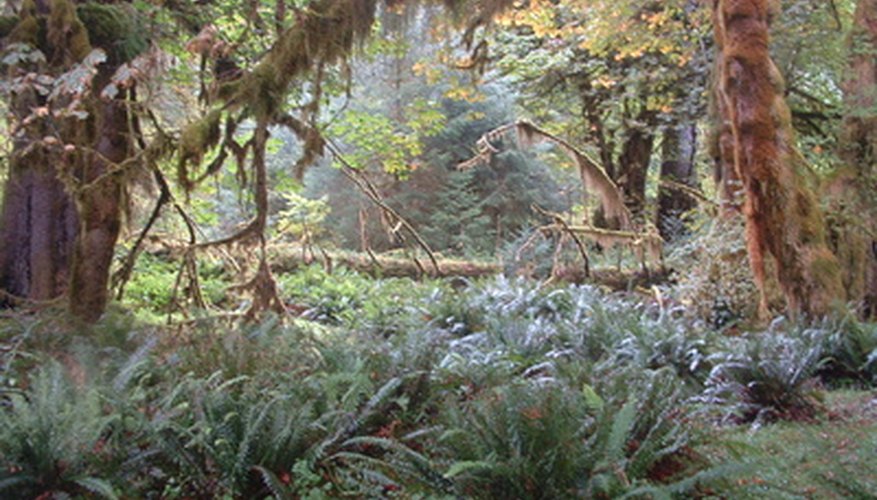 the undergrowth of the rain forest image by Elmo Palmer from <a href='http://www.fotolia.com'>Fotolia.com</a>
Tropical rain forests are home to about half of the plant species in the world. Many of the plant species found in the Central American tropical rain forest can be found growing on tree trunks, since it is easier for the sun to reach them at these higher heights than if they grew on the forest floor.
Trees
The Central American tropical rainforest is home to more species of trees than any other location in the world. Many of the trees found in such rainforests can grow to heights of 200 feet tall in order to access the sunlight they need to grow, which is otherwise blocked by the dense forest canopy. Rainforest trees like the mahogany, rosewood, durian, cassia and palms play an essential role to the rainforest biome since they provide both food and shelter to a wide variety of the environment's plants and animals.
Lianas
Lianas are the long, woody vines that drape from tree to tree throughout the rainforest. Lianas generally begin growing high in the rainforest canopy, eventually growing long enough to send their roots down into the rainforest floor below.
Sciencing Video Vault
Create the (almost) perfect bracket: Here's How
Pitcher Plant Vines
Pitcher plant vines are carnivorous plants that belong to the plant family Nepenthaceae. These particular vines have leaves that form a small pitcher that holds nectar meant to attract insects to the plant. Once the insect enters the pitcher to consume the nectar, small hairs that line the pitcher prevent the insect from escaping. The plant then digests the insect, which provides it with nutrients necessary for growth.
Bromeliads
Bromeliads are flowering plants that are commonly found in the rainforests of the Americas. In the rainforest, bromeliads often grow on tree branches rather than on the ground where sunlight is sparse. Bromeliads are an important part of the rainforest ecosystem, providing food and shelter to a wide variety of wildlife including small crustaceans, insect larvae, bacteria, amphibians and birds.
Orchids
Nearly 1,400 orchid species exist in the Central American rainforest. In the rainforest, Orchids are epiphytic, meaning that they live on the surface of other plants such as tree branches or stumps. Orchids have a rare feature among plants, in that they have developed a method of maintaining water by only opening the stomata (small holes) in their leaves at night. This helps to prevent evaporation of water within the plant during the hottest parts of the day.