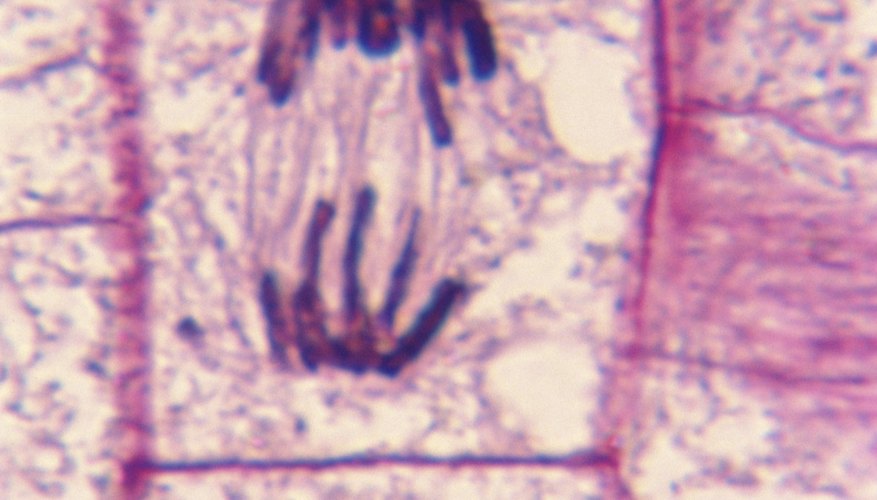 Jupiterimages/Photos.com/Getty Images
Mitosis is a five-phase process by which a cell replicates its genetic information in order to divide. Interphase is the rest period between divisions and also when the single strand of DNA in the nucleus is duplicated. During prophase, the DNA, which was a loose filament, condenses into discrete chromatids, or copies of a chromosome, connected at the center. At the end of prophase the envelope around the nucleus breaks down and the cell enters metaphase as the chromosomes are lined up at the center of the cell. The individual chromatids are pulled to opposite ends of the cell during anaphase. Finally, the division is complete during telophase.
Telophase Overview
During telophase, nuclear membranes reform around each set of genetic information. Having performed their function, the spindle fibers that pulled the chromosomes to the poles of the cell disappear. The chromosome doesn't need to be in a compact form anymore, so it uncoils, allowing better access for the transcription processes that read the genetic information in order to create proteins and enzymes. At the end of telophase, there are two separate nuclei, each with a copy of the original cell's DNA.
Late Telophase
Late telophase is when the cell completes the division and replication of its genetic information. At this point, the nuclear envelope has fully reformed and the DNA has unfurled, so there are two nuclei in the cell. The chromosomes only have one centriole, where the sister chromatids were attached, so the chromosome forms a second centriole next to the first in anticipation of the next division. At the same time as late telophase, the cytoplasm and cell membranes separate into two cells, a process known as cytokinesis.
Sciencing Video Vault
Create the (almost) perfect bracket: Here's How
Cytokinesis Process
Cytokinesis is the process that divides a single cell into two separate cells. It parallels the replication and division of the genetic information during mitosis. It starts during anaphase and is completed during telophase. A cleavage furrow forms at the center of the cell, like a belt that keeps getting tighter. During late telophase the cleavage furrow deepens until the cell is only connected by a thin bridge of fibers and cytoplasm, called the midbody. Finally, the final bond breaks, although some of the midbody often remains to orient the next cell division. Cytokinesis and telophase are complete and the new cells reenter interphase.
Timing of Telophase
How long it takes to get through the steps of mitosis can vary by cell type and by organism. Cells can spend an indefinite time in interphase if they are not actively dividing. In an average mammalian cell, the non-interphase portion of mitosis takes approximately an hour. The cell spends a relatively small proportion of this time in telophase, at a little over 8 minutes. This reflects that telophase is not the most mechanically complicated stage.