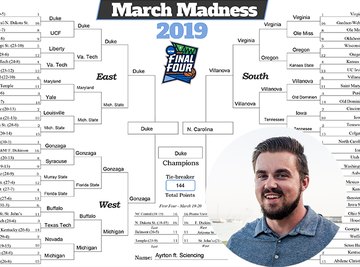 The days following Selection Sunday bring out the best in college hoop fans. Save for some fans caterwauling about their alma mater not making the tournament, the fandom's landscape emits a sense of hope rarely felt during the rest of the calendar year.
And then the round of 64 hits like a Mack Truck to obliterate those dreams of March perfection.
Thanks to Sciencing, we have a data-driven window into how things could shake out. Thanks to me, we have a guy who's listened to so many One Shining Podcast episodes in the past month that I hear Woody Durham's yell of "technical foul! technical foul!" in my sleep. I'm not entirely sure who's the real winner here.
Before looking into the round of 64, there's something I need to establish first: I'm picking Duke to win the tournament.
Boring, I know. But the dataset from Sciencing says that there's an 88 percent chance that a No. 1, No. 2, or No. 3 seed will win the tournament, and I like that percentage. In a similarly lukewarm take, Zion Williamson is the greatest college player I've watched in my lifetime. It's like Coach K went to Dr. Henry Wu from Jurassic Park in July 2000 and told him college basketball fans need to be in awe in two decades and Wu mixed the genetic material of Charles Barkley, Vince Carter and a splash of Shaquille O'Neal. I'm not betting against him or Steve Nash's godson, R.J. Barrett (oh, Canada).
With that being said, here's my picks from every region for the first round: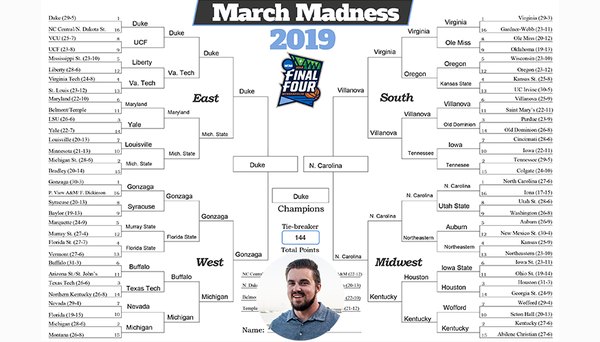 East
No. 1 Duke over No. 16 North Dakota State/North Carolina Central
No. 2 Michigan State over No. 15 Bradley
No. 4 Virginia Tech over No. 13 Saint Louis University
No. 6 Maryland over No. 11 Belmont/Temple
No. 7 Louisville over No. 10 Minnesota
I feel good about four of these picks (Duke, Michigan State, Virginia Tech and Louisville). Maryland doesn't inspire confidence but I'll take them.
No. 12 Liberty over No. 5 Mississippi State
No. 9 UCF over No. 8 VCU
No. 14 Yale over No. 3 LSU
Sciencing's data shows the jump in upsets starts at the 5/12 matchup and peaks at the 6/11 matchup. This is probably because it usually involves a mid-major conference champion (like Liberty) facing an average power conference team (Mississippi State). I like the Flames due to their pace, efficiency and the Bulldogs' turnover tendencies.
UCF over VCU isn't a crazy prediction (Sciencing has that type of matchup split 50/50) and I'm prone to go with the Knights due to VCU's low-scoring offense (207th in the country) relying on mostly two-point shots (234th in three-pointers made this season). The Knights have incredibly tall human and Key and Peele character in 7-foot-6 Tacko Fall protecting the paint. The dude has more blocks (77) than missed shots (46) and humans on Earth taller than him (33).
I know that the talent discrepancy between LSU and Yale is significant. I also know having your coach involved in an FBI scandal and not leading the team is significant. Neaux thanks.
West
No. 1 Gonzaga over No. 16 FDU/PV
No. 2 Michigan over No. 15 Montana
No. 3 Texas Tech No. 14 North Kentucky
No. 4 Florida State over No. 13 Vermont
No. 6 Buffalo over No. 11 ASU/SJU
No. 7 Nevada over No. 10 Florida
No. 8 Syracuse over No. 9 Baylor
More chalk here than an elementary school playground. I'm not confident in Texas Tech, Florida State or Nevada but I'm less so in their opponents.
No. 12 Murray State over No. 5 Marquette
Ja definitely feel. I'm not shy about my tendencies to fall for stars leading subpar teams in the tournament (I might have died on Collin Sexton Hill last year), but Marquette's strikingly average defense mixed with the Racers' top-12 offense makes me have short term memory loss. I'm speaking Ja Morant as the next Kemba Walker (at least until a date with Florida State) into the universe. If only Gus Johnson could call this one.
South
No. 1 Virginia over no. 16 Gardner-Webb
No. 2 Tennessee over no. 15 Colgate
No. 4 Kansas State over no. 13 UC Irvine
No. 6 Villanova over no. 11 Saint Mary's
No. 8 Ole Miss over no. 9 Oklahoma
Yes, I know Virginia lost to UMBC. But if DeAndre Hunter had played that game, there's likely one less 30 for 30 to look forward to. Kansas State made the Elite Eight without their best player last season and 'Nova's got a top tier coach, two things I really like in tournament teams.
No. 14 Old Dominion over No. 3 Purdue
No. 12 Oregon over No. 5 Wisconsin
No. 10 Iowa over No. 7 Cincinnati
Upsets galore! Old Dominion's stingy defense, great size (two 7-footers) and experience makes them an attractive 14 seed. That, and Purdue star Carsen Edwards' recent allergy to buckets. Sciencing's data states 21 No. 14 seeds have beat the No. 3 seed. I like that to become 22. Oregon and Wisconsin both have great defenses, but I like the Ducks' hot streak and better offense. Cincinnati plays a lot of close games due to a slower pace. If they weren't playing a team like Iowa, I'd like them to continue. The Hawkeyes' balanced attack that averages 78 per game is a plus and their defensive drawbacks won't be as profound against a slow team like the Bearcats.
Midwest
No. 1 North Carolina over No. 16 Iona
No. 2 Kentucky over No. 15 Abilene Christian
No. 3 Houston over No. 14 Georgia State
No. 5 Auburn over No. 12 New Mexico State
No. 6 Iowa State over No. 11 Ohio State
No. 7 Wofford over No. 10 Seton Hall
No. 8 Utah State over No. 9 Washington
Lots of chalk here, too, as I really like the higher seeds in this side in their respective matchups. Only one I'm a bit shaky on is Auburn playing a New Mexico State that doesn't suck at anything, but half those games came against a WAC schedule whose toughest team outside of the Aggies is Utah Valley.
No. 13 Northeastern over No. 4 Kansas
The Huskies are stacked with veterans and are a top-15 team in three point percentage. The Jayhawks rank 340th out of 353 schools in the country in outside shots allowed and 258th in turnovers, meaning Northwestern can attack them in transition.
About the Author
A two-time Sixth Man of the Quarter in Division II co-ed intramural basketball at his alma mater, Cal Poly, Ayrton was a sports editor and reporter for Mustang News, the school's student newspaper. Highlights include anchoring pre-game college basketball shows on television and not entirely embarrassing himself at bat against the greatest pitcher in Cal Poly softball history, Sierra Hyland. As a reporter for the USA Today Network in Salinas, California, Ayrton heads a sports department of one in covering prep sports of all types in Steinbeck Country.