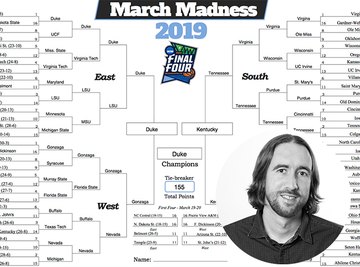 With apologies to Andy Williams, Christmas is not the most wonderful time of the year. The real most wonderful time of the year is …
Dick Vitale voice: March Madness, babyyyyyyy!!
Another March and another NCAA Tournament are upon us. Three weekends full of upsets, entertainment and memories that will stick with us sports fans for years to come. And another chance to have our hopes of picking the perfect bracket utterly crushed.
This year, I've got an advantage. Sciencing crunched the numbers and processed the data to analyze March Madness outcomes going all the way back to 1985. So this time I'm not just relying on my gut and months of obsessively following college hoops. Now I've got Sciencing's data to help light my way.
Without further ado, let's get into my data-guided picks.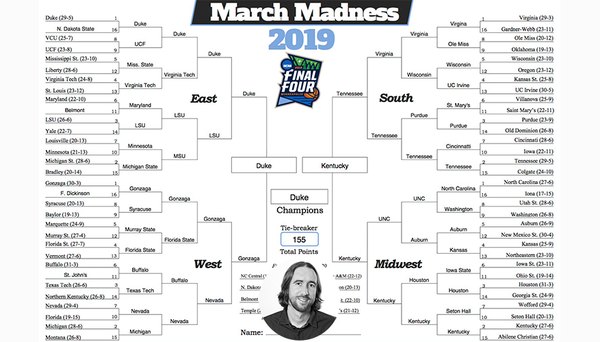 1 vs. 16 games
Schadenfreude makes it tempting to pick Virginia to lose to a 16-seed again, after last year becoming the first top team to earn that ignominious distinction. But, nah. I've got them advancing along with the rest of this year's top seeds.
Also, I have a personal rule: When one team (ahem, Duke) features a player (ahem, Zion Williamson) who looks like he was grown in a lab in the year 3019 then sent back to 2019 to lay waste to college basketball as some sick science experiment, you pick that team to win it all. Yes, it's boring to pick the Blue Devils. But Zion Williamson. Zion Williamson. Enough said.
2 vs. 15 games
I've got the two-seeds all advancing here. Not terribly avant-garde of me, but Sciencing's data says 15-seeds only pull off this upset six percent of the time.
3 vs. 14 games
Same deal here. While it is objectively awesome when a 14 or 15 pulls off a huge first-round upset, Sciencing says the 14-seeds only win in this round 15 percent of the time. So I'm resisting my more reckless impulse to pick Yale over LSU and playing it safe instead.
4 vs. 13 games
Now it gets a little more interesting. Sciencing says 13-seeds advance 21 percent of the time. That translates to almost one upset in this matchup every year. So let's get weird.
I'm targeting UC Irvine over Kansas State as my upset pick here. Irvine has already won 30 games this season and is undefeated in its last 10 contests. Kansas State's most recent game was a disappointing loss to Iowa State. The two teams also faced one common opponent this season; Irvine beat Texas A&M by one point, while Kansas State lost to Texas A&M by 12.
Finally, Irvine has perhaps college basketball's most awesome nickname: The Anteaters! And that's as important as any stat.
5 vs. 12 games
Sciencing's data says to expect at least one upset among these four matchups, as 12-seeds win 35 percent of the time. I'm going to play it a little conservatively and choose just one upset here, since in my last batch of picks I got slightly ahead of the data in picking a 13-seed in UC Irvine. That kind of evens out, right?
For my 12-seed underdog I'm going with Murray State. Why? Pure star power. The Racers feature a hyper-athletic point guard named Ja Morant. Despite playing for a small school, he's projected to be a top-three pick in this June's NBA Draft. Morant is spectacular to watch, so a Murray State win over Marquette in the first round would come with the added bonus of getting to see him play at least one more tournament game before moving on to the pros.
6 vs. 11 games
We can expect between one and two upsets in this round, per Sciencing's data. None of the 11-seeds this season have been particularly impressive, so I'm going to go with just one underdog in St. Mary's. The Gaels' most recent game was a convincing win over Final Four favorite Gonzaga, giving them some nice momentum as the NCAA tourney begins. So give me St. Mary's over Villanova in the first round. Beyond that, I'm expecting six-seeds Iowa State, Buffalo and Maryland to take care of business as expected.
7 vs. 10 games
The data says in this round we can again expect between one and two upsets, so this time I'm picking two: Seton Hall over Wofford, and Minnesota over Louisville.
8 vs. 9 games
Can you really consider it an upset with two teams seeded so close to one another? Sciencing's data says these games have historically been a 50-50 split. I'll stick with the data again here, picking nine-seeds Washington and UCF to advance along with eight-seeds Ole Miss and Syracuse.
How will my picks look this time next week? Will my bracket already be in tatters? I don't know! You don't know! That's the beauty of March Madness.
I do know this much, though: If my bracket is still more or less intact, I'll credit my keen observational eye. If my bracket is busted, I'll choose to blame Sciencing's data leading me astray. Convenient, right?
About the Author
Sam Laird is a journalist who has written for publications including SLAM, Mashable and The New York Times. He's covered the World Cup, NBA Finals and World Series in-person, but his most memorable reporting experience might have come at a cannabis wedding exposition in Colorado. Born and raised in Berkeley, California, Sam has become all too accustomed to pain and disappointment as a lifelong Cal Bears fan. However, he's also a longtime fan of the Golden State Warriors, whose recent run of success is helping him learn to love again. Sam currently lives in Madrid, Spain, where he does freelance writing and teaches English.