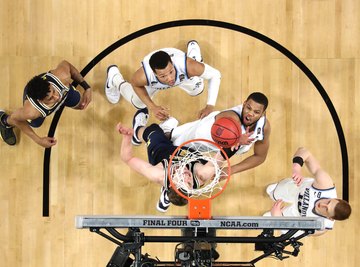 •••
Ronald Martinez/Getty Images Sport/GettyImages
Welcome to Sciencing's 2019 NCAA Tournament Coverage!
In case you missed it, our data science team scoured the history books to create a statistical guide to this year's tournament. The data should prove useful to basketball fanatics and bracket rookies alike. We've also compiled a series of articles to provide you with a complete understanding of the statistics involved in March Madness:
And to really put our data to the test, we've assembled a team of sports writers – journalists with years of experience both covering sports and filling out brackets. The three bloggers will take a look at our guide, implement the stats and make selections as they see fit. Round after round, they'll blog about the ongoing success (or failures) of their bracket.
Make sure to tune in after Selection Sunday (March 17) to see who our bloggers pick to win it all, and read on to meet them.
Sam Laird
Sam Laird is a journalist who has written for publications including SLAM, Mashable and The New York Times. He's covered the World Cup, NBA Finals and World Series in-person, but his most memorable reporting experience might have come at a cannabis wedding exposition in Colorado.
Born and raised in Berkeley, California, Sam has become all too accustomed to pain and disappointment as a lifelong Cal Bears fan. However, he's also a longtime fan of the Golden State Warriors, whose recent run of success is helping him learn to love again. Sam currently lives in Madrid, Spain, where he does freelance writing and teaches English.
Ayton Ostly
Ayrton Ostly has more March Madness titles (3) than John Calipari (1) — though, to be fair, those were office bracket challenges and involved no Division I competition.
A two-time Sixth Man of the Quarter in Division II co-ed intramural basketball at his alma mater, Cal Poly, Ayrton was a sports editor and reporter for Mustang News, the school's student newspaper. Highlights include anchoring pre-game college basketball shows on television and not entirely embarrassing himself at bat against the greatest pitcher in Cal Poly softball history, Sierra Hyland.
As a reporter for the USA Today Network in Salinas, California, Ayrton heads a sports department of one in covering prep sports of all types in Steinbeck Country.
Brian Truong
If there is anything Brian Truong loves more than hockey, it's making strange sports predictions.
The Bay Area native is a journalism junior at Cal Poly. As the current sports editor for Mustang News, Brian has spent the last three years reporting from the sidelines of Division I sports. He earned a 2017-18 Associated College Press Pacemaker honorable mention for his feature, "The relentless Ayzhiana Basallo - How an undersized point guard found herself at Cal Poly, shot, after shot, after shot."
While he has experience in writing, video and live broadcast, Brian hopes to pursue a career in play-by-play commentating.
About the Author
As Sciencing.com's editor-in-chief, Jacob leads weekly editorial coverage and all sports-related, data-driven projects. He studied journalism at Cal Poly, San Luis Obispo and covered sports for Mashable.