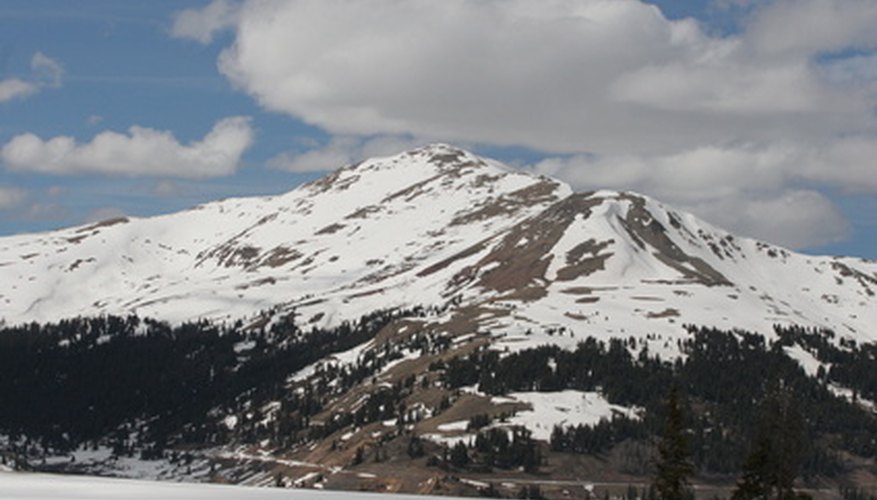 copper mountain,colorado,rocky mountains,mountain, image by Earl Robbins from
Fotolia.com
Regions characterized by mountains and ice are known as the "biome," or Alpine tundra. Examples of Alpine tundra can be found in the Andes Mountains, Rocky Mountains and Himalayan Mountains.
Locations
Alpine tundra areas occur all over the world but are typically found on mountains with altitudes above 10,000 feet.
Climate
Due to its high elevation, Alpine tundras are incredibly cold and dry. Temperatures go as low as -12 degrees Celsius to about 10 degrees Celsius, with freezing temperatures at night. In general, a mountain's temperature will drop 10 degrees Celsius per rise in 1,000 meters (a little over 1/2 mile).
Plants
One of the most common plants in these mountain areas is the Alpine phacelia, also known as the purple fringe. Other Alpine tundra plants include bear grass, bristlecone pine, moss campion, polylepis forest, pygmy bitterrroot and the wild potato.
Animals
High altitudes mean that animals that live there are usually warm-blooded. Animals in this region include the alpaca, andean condor, chinchilla, kea parrots, llama, marmot, mountain goat, pika snow leopard, vicuña and the yak.