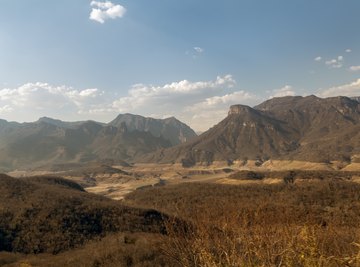 •••
JDEstevao/iStock/Getty Images
Mexico is an impressively mountainous country, where rugged and sometimes truly towering peaks rear dramatically from coastal lowlands and arid plateaus.
From the desert ranges of Baja California to the tropical highlands on the Guatemala border, Mexico's mountain systems serve as great ecological frontiers between temperate and tropical zones and, more broadly, North and Central America.
A Sketch of the Major Mountains in Mexico
In northern Mexico, three principal mountain systems stretch roughly parallel to one another from the northwest to the southeast. The Peninsular Ranges of Baja California -- the Sierra de Juarez, Sierra San Pedro Mártir, Sierra de la Giganta, and Sierra de la Laguna -- are a continuation of California's coastal mountains.
East of the Gulf of California lowlands rises the Sierra Madre Occidental, which stretches some 1,250 kilometers (777 miles) from the trans-border "sky islands" to the Rio Santiago. Further east is the 1,350-kilometer-long (840-mile) Sierra Madre Oriental, which has a northern terminus in the Big Bend country on the Texas-Mexico line.
Between the Sierra Madre Occidental and Oriental lies Mexico's central plateau: a belt of high volcanoes called the Cordillera Neovolcánica bridges the two ranges at their southern end. This is where the highest point in Mexico is: Pico de Orizaba (which is actually a volcano!).
In southern Mexico, edging the Gulf coastal plain and Yucatan, the Sierra Madre del Sur, Sierra Madre de Oaxaca, Sierra Madre de Chiapas and Chiapas Highlands form a rugged pathway to the backbone of Central America.
Notable Peaks
Mexico's highest peaks are the great stratovolcanoes of the Cordillera Neovolcánica, of which the loftiest is 5,636-meter (18,491-foot) Pico de Orizabi at the eastern end of the belt. This beautiful cone is among the world's most topographically prominent mountains, which reflects a peak's elevational stature in relation to the local terrain. As we said before, this is the highest point in Mexico.
Other mighty Mexican volcanoes include 5,636-meter (17,802-foot) Popocatépetl, 5,426-meter (17,802-foot) Iztaccíhuatl and 4,680-meter (15,350-foot) Nevado de Toluca. Outside of the Cordillera Neovolcanica, other significant summits include 4,060-meter (13,320-foot) Volcán Tacaná in the Sierra Madre de Chiapas and 3,721-meter (12,208-foot) Cerro Potosí in the Sierra Madre Oriental.
Ecological Significance
Mexico's mountains describe numerous and overlapping ecological frontiers, both elevational and latitudinal. Foothills and lower slopes may be cloaked in subtropical desert or tropical forest, while the mid- and upper-elevation flora, including pines and firs, call to mind temperate North America.
The snow-peaks of the Cordillera Neovolcánica and the summit of Cerro Potosí include patches of alpine tundra unique in Mexico, far south of the nearest analogues in New Mexico's Southern Rockies.
The Madrean Archipelago describes a scattering of forested mountain ranges isolated by arid grasslands and desert in southeastern Arizona, southwestern New Mexico and adjoining Mexico. These "sky islands" -- geologically part of the Basin-and-Range Province -- act as an ecological bridge between the Colorado Plateau/Southern Rockies and the Sierra Madre Occidental.
Copper Canyon
The Sierra Madre Occidental includes one of North America's greatest landmarks: the giant system of gorges called Barrancas del Cobre, or Copper Canyon, more than 1,829 meters (6,000 feet) deep in places.
Eroded out of layered volcanic rock by rivers draining into the Gulf of California, Copper Canyon -- deeper and more extensive than Arizona's Grand Canyon, though not so colorful or broad -- includes great waterfalls such as 452-meter (1,486 foot) Piedra Volada and 246-meter (807-foot) Baseachi Falls.
The elevation range and numerous microclimates encompassed by the gorges foster a striking spread of ecosystems, from palm and tropical-hardwood groves in the canyon bottoms to pine-oak and mixed-conifer forests in the high country.
References
About the Author
Ethan Shaw is an independent naturalist and freelance outdoors/nature writer based in Oregon. He holds a B.S. in Wildlife Ecology and a graduate certificate in G.I.S. from the University of Wisconsin-Madison. His primary interests from both a fieldwork and writing perspective include landscape ecology, geomorphology, the classification of ecosystems, biogeography, wildlife/habitat relationships, and historical ecology. He's written for a variety of outlets, including Earth Touch News, RootsRated, Backpacker, Terrain.org, and Atlas Obscura, and is presently working on a field guide.
Photo Credits
JDEstevao/iStock/Getty Images