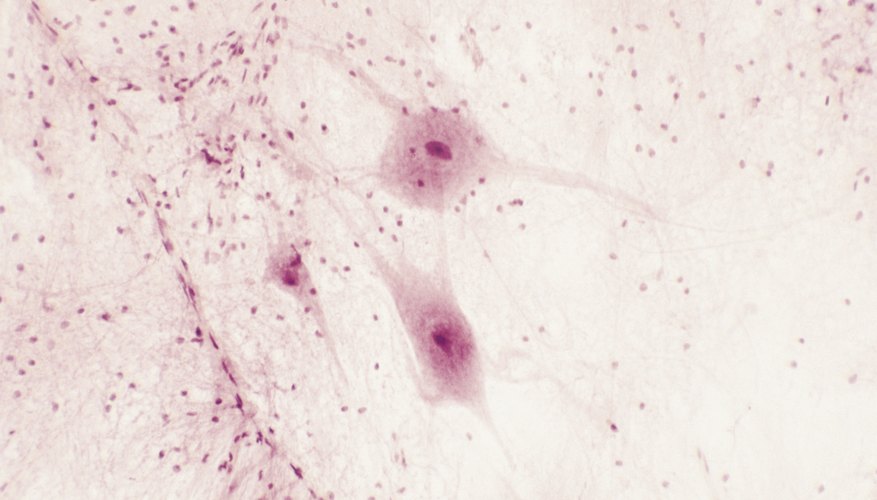 Ablestock.com/AbleStock.com/Getty Images
Just about every cell on Earth lives off of energy harvested from glucose molecules. But cells can't directly transfer energy from glucose to their other molecules; instead they rely on a molecule called adenosine triphosphate, or ATP. To get ATP from glucose, cells must first break glucose molecules apart. That process is called glycolysis, and it requires the participation of ten different enzymes.
Glycolysis
Glycolysis is the first step in extracting energy from glucose. There are several ways this can be done, such as cellular respiration. You may think of respiration as breathing, but cellular respiration is the reason you breathe. Your cells use the oxygen you breathe to get as much energy as possible from glucose. Plants and microorganisms do the same thing. The first step in cellular respiration, and other processes for getting energy from glucose, is splitting one glucose molecule into two pyruvate molecules.
Hexokinase Starts Glycolysis
Chemical reactions are processes wherein atoms in one configuration change to another configuration, usually separating and recombining into completely different entities. Enzymes are proteins that help chemical reactions along. For example, the first step in glycolysis is to convert glucose to glucose-6-phosphate. That is, the product is a glucose molecule with a hydrogen atom replaced by a phosphate group, one phosphorus and three oxygen atoms. The enzyme that helps that along is called hexokinase. Two more enzymes, phosphoglucomutase and phosphofructokinase, change the shape of the glucose, resulting in a molecule called fructose 1,6-biphosphate. That fructose molecule is just a slightly different shape than the original glucose, with a couple energy-storing phosphate groups added.
Sciencing Video Vault
Create the (almost) perfect bracket: Here's How
Splitting
The enzyme aldolase helps along the splitting of the six-carbon fructose molecule into two three-carbon glyceraldehyde 3-phosphate (G3P) molecules. Actually, aldolase splits the fructose into one G3P and one dihydroxyacetone phosphate (DAP) molecule. Then another enzyme, triose phosphate isomerase, converts the DAP to G3P.
Each of the G3P molecules then gets shifted through a few other three-carbon molecules, getting rid of a couple phosphate groups along the way and leaving a pyruvate molecule. Each of the five steps is helped along by an enzyme. The five enzymes involved are phosphate dehydrogenase, phosphoglycerate kinase, phosphoglyceromutase, enolase, and pyruvate kinase.
Glycolysis and Energy
All those complicated-sounding enzymes are working for one reason: to make energy available for the cell. The first five steps of glycolysis make the cell spend energy -- using up two ATP molecules. The next steps turn that around, generating four ATP molecules. But that's just the start.
The pyruvate molecules generate additional ATP -- both directly and indirectly. The specific chemical reactions and the total number of ATP molecules generated depend upon the type of cell and the availability of oxygen, but everything starts with glycolysis. (see ref. 3 for respiration and fermentation)