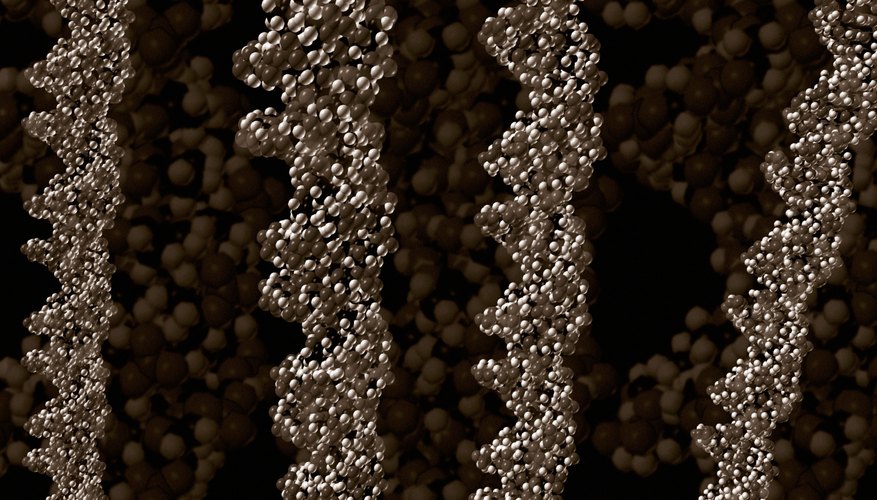 Jason Reed/Photodisc/Getty Images
Ribosomes are an ancient mechanism for protein synthesis. Because every species is composed to some extent of protein, they exist in every cell in every living thing on Earth. They read the information contained in an organism's genes, then use that information to construct the protein molecules that make up the organism's bodily systems.
Ribosome Structure
Although they manufacture proteins, ribosomes are partially composed of proteins themselves. Almost one-third of their makeup consists of proteins, while the remaining two-thirds consists of ribosomal ribonucleic acid (RNA), which contains the genes that express how the ribosomes are to be constructed. Under a microscope, ribosomes look like small granules or particles scattered all over the cell. Ribosomes are very small, existing at the molecular level, so scientists don't have a clear picture of what they look like, but they do know that they change their shape at different points in the protein-synthesis process.
Ribosome Prevalence
Ribosomes are located in every cell of every organism. According to the University of California, Santa Cruz, each cell may contain thousands of individual ribosomes. Some of these float freely inside the cell, but more of them are located on the endoplasmic reticulum, which is the organelle, or cell organ, responsible for manufacture of chemical compounds for use inside and outside the cell. Freely floating ribosomes create freely floating proteins, while those that are bound to the endoplasmic reticulum transfer their proteins into the organelle once created.
Protein Codes
By reading chains of instructions brought by messenger RNA, ribosomes create proteins. The RNA gets its instructions in turn from deoxyribonucleic acid (DNA), which it reads when DNA's double helix "unzips" and separates so that the RNA can copy the information contained within the genes. This information is then carried into the ribosome, where the code is read. At this point, the amino acids necessary to build specific proteins are gathered and linked together to synthesize specific proteins.
Production Process
Several types of RNA work together within the ribosome to create a new protein strand. After messenger RNA brings the information from the DNA strand into the ribosome, the latter uses transfer RNA (tRNA) to create a new copy of the message. This copy is used for amino acid binding: one amino acid binds to each component in the tRNA chain. Once it binds the amino acids together, the tRNA can then peel off of the resulting protein chain.