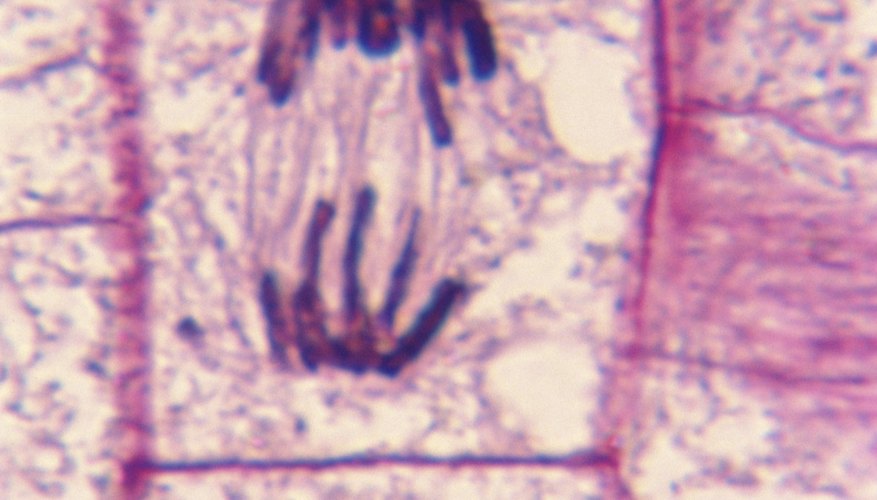 Jupiterimages/Photos.com/Getty Images
Mitosis is the process in which a cell divides into two separate cells that have the same amount of DNA as the original cell. This process involves doubling of DNA and organelles in the cell, so that each daughter cell can have a similar internal content. Some organelles have very specific roles that support mitosis, but they may perform those roles before mitosis begins. Before mitosis can start, a cell must make sure that it has enough energy molecules and membrane building blocks.
Preparing for Mitosis
The cell cycle has two main phases: Interphase is the preparation phase and mitosis is the phase when a cell actually divides. Within interphase are three sequential phases: G1 phase, S phase and G2 phase. Three organelles perform specific functions in order that mitosis can happen: the smooth endoplasmic reticulum, the mitochondria and the centrosomes. Aside from centrosomes, which double during interphase but do their jobs during mitosis, the smooth endoplasmic reticulum and mitochondria do their jobs during interphase before mitosis happens.
Smooth ER Makes Membranes
The smooth endoplasmic reticulum (ER) is a network of interconnected tunnels and pouches, like a hollow funnel cake. One of the functions of the smooth ER is to make phospholipids, which are the building blocks that make up the membranes of a cell. Phospholipids are special in that they have an electrically charged head region and an oily, water-fearing tail region. Thus, phospholipids form sheets called bilayers, which are like sandwiches that hide the oily tails in the middle while exposing the charged head regions on either side. The amount of phospholipids in a cell doubles during the S phase of interphase. This is important because the cell will split into two cells during mitosis, so there needs to be enough membrane material to make two separate cells.
Mitochondria Fuse
Many protein machines are required in the process of mitosis. Protein machines are powered by energy molecules called ATP (adenosine triphosphate). The mitochondria are bean-shaped organelles that specialize in producing lots of ATP. The S phase of interphase is when the cell makes a copy of its entire DNA, which will be evenly divided during mitosis. But before the cell commits to entering S phase, it must have enough ATP molecules. Before a cell enters the S phase, its mitochondria will fuse with each other to form a network. This network produces much more ATP than individual mitochondria can.
Centrosomes and Spindle Fibers
Centrosomes are the proteins that form spindle fibers. These fibers are called microtubules and are like railways on which motor proteins walk. Centrosomes double during S phase of interphase because the process of mitosis will give one centrosome to each daughter cell. But before mitosis is complete, the job of centrosomes is to form a north pole and a south pole across the dividing cell. These poles are connected by spindle fibers that start at one centrosome and reach across to the other side. The spindle fibers help pull DNA apart as the cell divides into two.