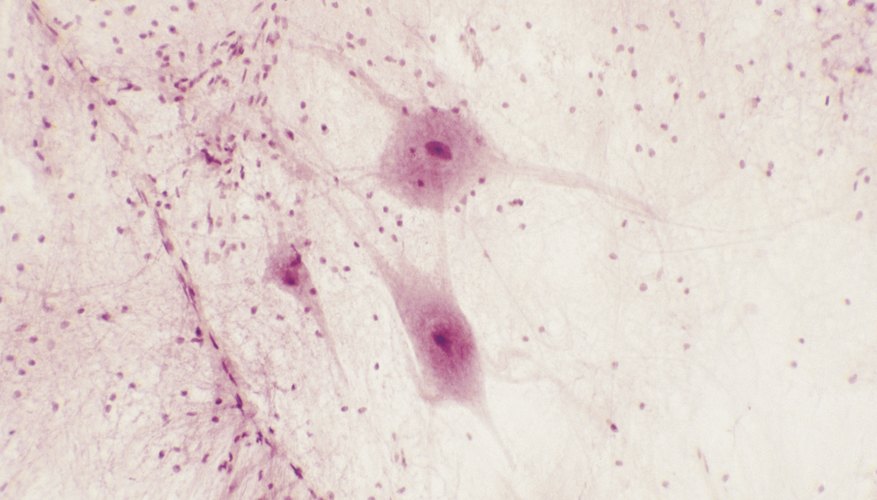 Comstock Images/Stockbyte/Getty Images
Skin cells and nerve cells share similarities that are not obvious, but surprising to many people. Chief among these similarities are that they come from the same embryonic cell layer while in the womb and that they can communicate by using electricity. Skin cells and nerve cells rely on their cell membranes to keep different types of salt molecules separate from each other, which is essential to their proper function. They both break down sugar to make energy molecules, which happens in organelles called mitochondria. This is also why they develop diseases when the mitochondria break down in old age.
Ectoderm Origins
Skin cells and nerves cells, though they look quite different from each other, come from the same type of cell in the embryo. Early on in embryonic development, the ball of cells that is the embryo undergoes a process of folding into itself called gastrulation. This process produces three types of cells called the three germ layers. The outermost layer is called the ectoderm. The cells in this layer will eventually give rise to the brain, the nerves and the skin.
Membranes Keep Them Separate
The job of a skin cell and a nerve cell requires that they have a cell membrane that can keep different salt molecules separate from each other. A nerve cell generates an electrical signal by allowing electrically charged salt molecules to flow across its membrane and into the cell. In order for the flow to happen, the nerve cell had to first pump these salt molecules, sodium, out in order to accumulate a large pool of salt on its outside. Similarly, the job of a skin cell is to form a layer of cells that is watertight, preventing water and salts from freely flowing through the cracks between the skin cells.
Same Fuel, Same Problems
Another similarity of skin and nerve cells is that they both have mitochondria, which make energy molecules from the breakdown of sugar. Mitochondria are pouches inside the cell that make the energy molecule called adenosine triphosphate, or ATP, which powers the protein machines inside the cell. Over time, mitochondria get old and break down. They don't produce as much ATP but produce a lot of harmful chemicals called reactive oxygen species. Their dysfunction damages the cell. This is why mitochondrial aging affects both skin diseases and neurological diseases.
Electrical Communication
One of the most surprising things about skin cells is that they are capable of wireless, electrical communication. Research has shown that a wound in the skin generates a weak electrical field that attracts new skin cells to fill the wound. In fact, manipulating the electric field around a wound can help it heal faster. This means that nerve cells are not the only cells that use electricity to communicate with other cells. Nerve cells can send electrical signals along their membranes, but can also sense and move towards electrical fields.