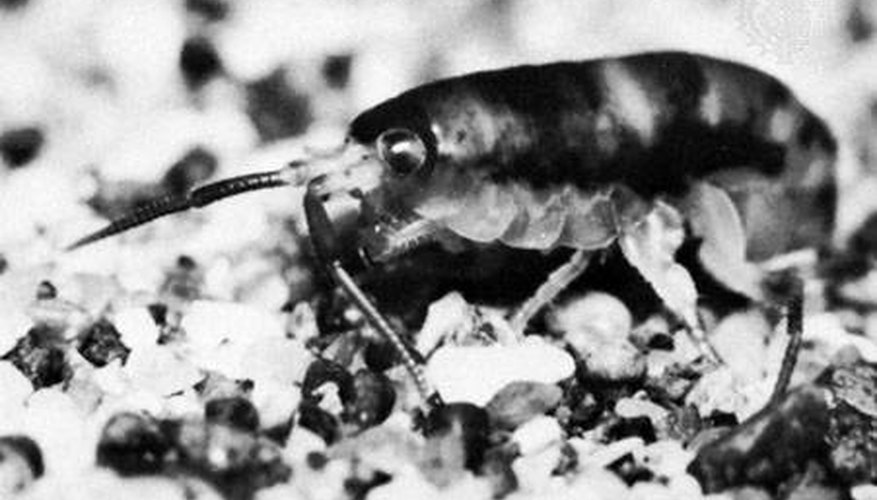 Sand flea image from Encyclopedia Britannica
Sand fleas refer to several species of little crab-like creatures that flit through the sand like fleas through animal fur. It can be very hard to tell what color they are not only because they are all covered with sand, but that they are sand colored to begin with. Adult sand fleas are grey, white, a translucent tan or a cola shade of brown. Juvenile sand fleas can be black, brown or very light tan.
Identification
Sand fleas range in size from microscopic to 1.5 inches long. They have long front antennae and hard segmented exoskeletons. They have clearly visible eyes, unlike animal fleas. They can hop as well as wriggle and burrow. Technically, they are crustaceans, but they look like insects.
Function
The function of a sand flea's color is that it blends in with the sand and the sea foam so it can go out and about without catching the eyes of hungry predators like birds and some fish. This also means that they are very hard for people to avoid, resulting in nasty sand flea bites on many human legs.
Types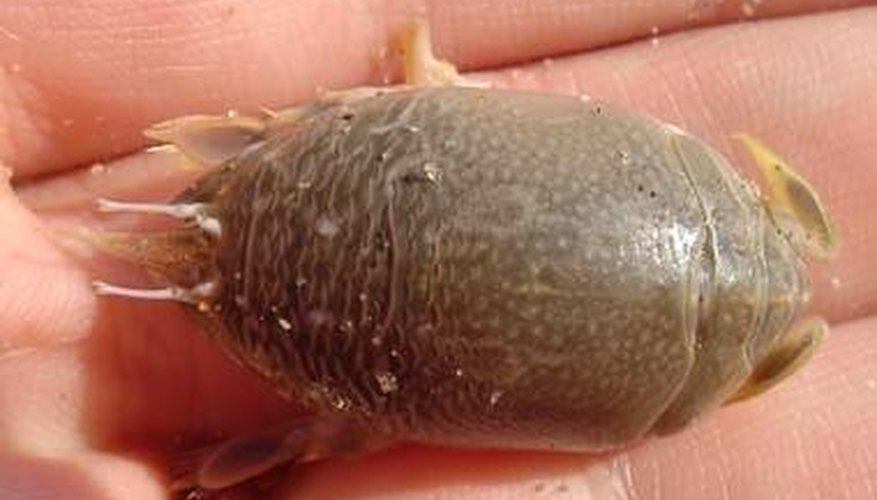 There are several kinds of sand fleas, only one of which actually sucks on blood like a flea. All the rest are plant eaters. The blood eater is a chigoe flea ("chigger") which is sandy-brown, but also seemingly transparent in places, so it can very hard to determine its true color. Plant eating sand fleas include the mole crab, which is the color of wet, firmly-packed beach sand (various shades of tan). The species known as talitrus salidor is also a translucent tan with a darker back, again to mimic beach sand.
Geography
Sand fleas can be found on the beaches of the Atlantic Ocean in North America and Europe. There is also a freshwater species ("scuds") of plant-eating sand flea in the north east part of America. Mole crabs can be found on North or South American beaches on the Pacific or Atlantic side. Chigoe sand fleas live in South America and the West Indies.
Considerations
Because you can't see them, it is very hard to avoid sand flea bites. Sand fleas are more active at night, dawn and dusk, so try to visit the beach in the daytime. Commercial insect repellents or applications of tea tree oil have been known to help keep some sand fleas away. If you do get bitten, treat with aloe vera gel, anti-itch creams or even a colloidal oatmeal bath.