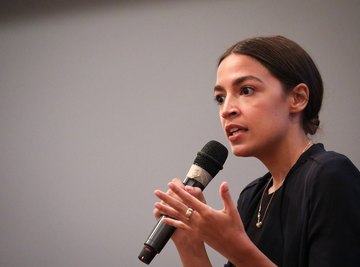 •••
Drew Angerer/Getty Images News/GettyImages
The United Nations also released a report saying we have just 12 years to limit an impending climate disaster. And the Trump Administration's plan for climate change involves rolling back regulations that protect clean air and clean water, putting thousands of lives (and over 75 endangered species) at risk.
So we thought we'd close out the year with a breath of fresh air (pun intended!) and look at an exciting positive development in climate news: the Green New Deal.
What is the Green New Deal?
The Green New Deal is inspired by the New Deal of the 1930s: a set of reforms, like Social Security, aimed at tackling the massive wealth inequality and poverty of the time. The Green New Deal is aimed at addressing those same issues, as well as combating climate change.
Varshini Prakash, the co-founder of Sunrise Movement – one of the organizations backing the deal – sums it up best.
"We're positioning the Green New Deal as an umbrella for a set of policies and programs that get America out of fossil fuels and transitions our country to stop the climate crisis, eliminate poverty, and improve the lives of million of working families," she told Refinery29. "It's not gonna be one bill or one policy, it's going to be it's going to be a sweeping set of reforms that go beyond simple climate policy."
What Policies Could Make Up the Green New Deal?
Alright, you've got the big picture – now here are the details.
And Alexandria Ocasio-Cortez, one of 36 members of Congress supporting the deal, also laid out the draft of her plan on her website. The Green New Deal aims to tackle climate change by transitioning entirely to renewable energy sources – think wind and solar energy – within 10 years of implementing the plan. It also calls for government investment in a nationwide clean energy grid – a boost for the small businesses and workers that would create it.
But the plan also tackles wealth inequality. It calls for basic income programs, job guarantee programs – so anyone who wants a job can find one – and universal healthcare. Overall, Ocasio-Cortez's plan states, the goal is not only to change the energy economy in the States, but "make prosperity, wealth and economic security available to everyone participating in the transformation."
So Could it Really Happen?
While the Green New Deal may sound radical (and it is!) it's also quite popular. Check out this survey, conducted by the Yale Program on Climate Change Communication and George Mason University and published by HuffPost on Monday.
Not only do more than 90 percent of Democrats say they support the policies, but 88 percent of Independents do. Those on the political right support it too: 57 percent of conservative Republicans said they supported the Green New Deal's policy goals, and so did 75 percent of moderate-to-liberal Republicans.
The study authors point out those numbers could change – people tend be more likely to disagree with policies if they learn they're supported by an opposing political party – but the poll hints at the potential for widespread support of the deal.
And we're still in the early stages. Right now, Ocasio-Cortez's push for the deal involves requesting permission to launch a special committee within Congress – but once formed, the committee could start drafting legislation and pushing for it to pass. It could take a while for Green New Deal laws to be finalized, much less passed and put into action.
But it's still great news for the future of clean energy and the potential to combat climate change in the States. And with an election coming in the next two years, now's the perfect time to make your voice heard. If the Green New Deal sounds great to you, get in touch with your representatives to let them know – and make green energy a key issue going into 2019 and 2020.
References
About the Author
Sylvie Tremblay holds a Master of Science in molecular and cellular biology and has years of experience as a cancer researcher and neuroscientist. Before launching her writing business, she worked as a TA and tutored students in biology, chemistry, math and physics.