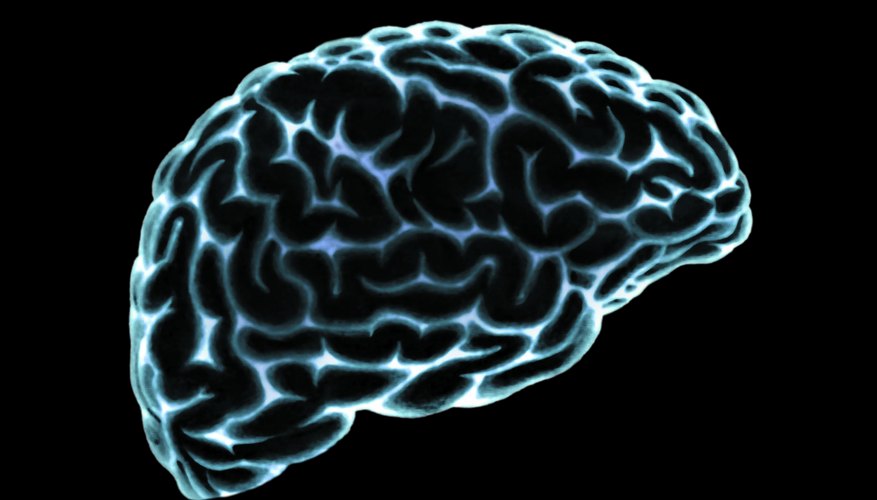 Digital Vision./Photodisc/Getty Images
Not only do brain cells have lipid bilayers, their special function of conducting electrical signals depends on such a layer. Brain cells are called neurons. They send electrical signals by allowing ions to flow across their plasma membrane. This is made possible by the fact that the plasma membrane is a lipid bilayer, which prevents ions from freely flowing through it. Furthermore, the lipid bilayer contains protein channels that concentrate different ions on different sides of the bilayer. Lastly, brain cells release chemicals that activate their neighboring cells. These chemicals are stored in lipid bilayer pouches that fuse with the plasma membrane.
A Greasy Sandwich
A lipid bilayer is like a sandwich, one layer of bread on top and one on the bottom, with greasy mayonnaise in between. The type of lipid in a lipid bilayer is called a phospholipid. The "phospho" part of the phospholipid is negatively charged and likes water, while the lipid part is oily and avoids water. Thus, when phospholipids are dissolved in water, such as the liquid environment in which cells live, they form a lipid bilayer in which the oily part hides in the middle, shielded from water on both sides by the charged heads.
Separating Ions
Neurons are thin, elongated cells that send electrical signals down the length of their outstretched arms. They are able to do this because they can separate sodium ions on the outside of their plasma membrane, while keeping potassium ions on the inside. The flow of sodium ions from outside to inside is what causes the electrical signal. The flow of potassium ions from the inside to the outside is what causes the electrical signal to move in only one direction, away from the command center of the cell.
Voltage-Gated Ion Channels
Ions are able to flow in and out of the cell because the lipid bilayer that is the plasma membrane has protein channels. These channels allow the passage of sodium and potassium ions. They are normally shut, but open in response to an electrical signal from another cell or another type of signal from the environment. Protein channels are in the category of integral membrane proteins. These proteins have properties that allow them to remain in a lipid bilayer. Without them, the lipid bilayer of the neuron would not be able to create electrical signals.
Fusion of Vesicles
Neurons communicate with each other and neighboring cells by releasing chemicals called neurotransmitters. Neurotransmitters are stored inside pouches that are lipid bilayers -- referred to as synaptic vesicles. The lipid bilayer structure of the vesicles is essential to their function, because they fuse with the plasma membrane to release their contents. They can fuse with the plasma membrane because they are made of the same material that is arranged in the same way. Aside from these vesicles, brain cells have other organelles inside them, such as mitochondria. The "skin" of organelles, much like the skin of vesicles, is a lipid bilayer.