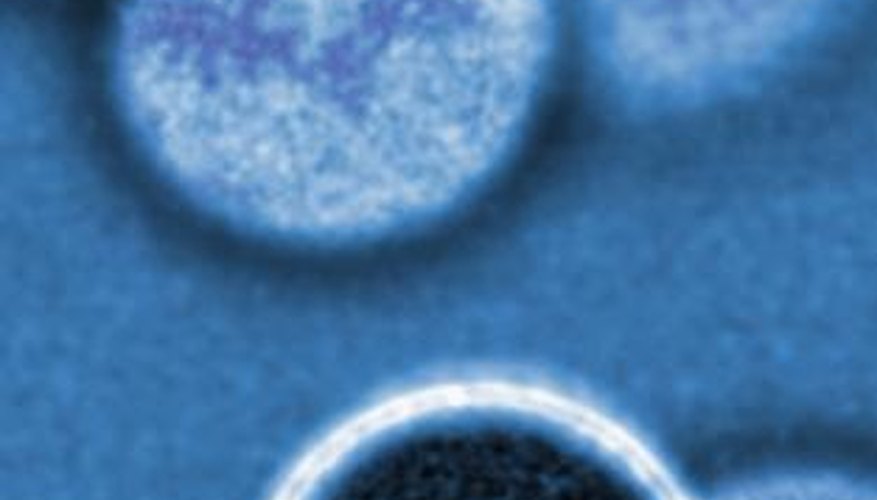 Chad Baker/Photodisc/Getty Images
The three main structures of the cell are the membrane, the cytosol and its contents and the nucleus. The membrane is semi-permeable, allowing selected nutrients and signal molecules inside. The cytosol holds a variety of organelles, which perform specialized functions. The nucleus, of course, holds the genetic code of the cell, along with the nucleolus.
The Cell Membrane
The cell membrane encloses the cell. Its three main functions are to provide a boundary around the cytoplasm, to bind the cells together and to filter different chemicals to determine which are allowed to penetrate the cell.
Molecules cross the membrane by active transport, diffusion and osmosis. Carbohydrates in the membrane promote inter-cell adhesion. The lipid molecules that make up most of the membrane are permeable to water-soluble substances such as glucose, and fat-soluble elements such as oxygen and carbon dioxide.
The Cytosol
The cytosol is the fluid between the cell membrane and the cell nucleus. It is filled with specialized organelles. The three main functions performed in the cytosol are protein synthesis, making energy from nutrients available for other cells processes and signal transfer.
ATP and Protein
ATP is produced in the cytosol. It is the energy source used by the chemical processes in the cell. It is produced by mitochondria, a type of organelle in the cytosol numbering in the hundreds. Because of their function, mitochondria are called the powerhouses of the cell.
Proteins are also produced in the cytosol. They are created in ribosomes, ribbon-like organelles that reside on another organelle called the endoplasmic reticulum.
Signal Transfer
Signal transfer, or signal transduction, occurs across the cytosol, from the membrane of the cell to the nucleus. Signals from the outside—hormones, for example—trigger a reaction through the cell membrane, which releases a signal chemical on the inside of the cell. This way, the hormone never has to enter the cell to do its job.
The Nucleus
The three main functions of the nucleus are to control gene expression, mediate the replication of DNA upon cell division and maintain DNA integrity. A fourth, equally important function performed within the nucleus is the production of ribosomes within the nucleolus, the only protein synthesis that occurs within the nucleus.
DNA Integrity
Several mechanisms maintain DNA integrity, protecting against, and repairing, mutations. By comparison, the genetic material in mitochondria have only one such mechanism. This is why over the eons of cellular evolution more than one thousand mitochondrial genes have migrated from the mitochondria into the better-maintained nucleus.