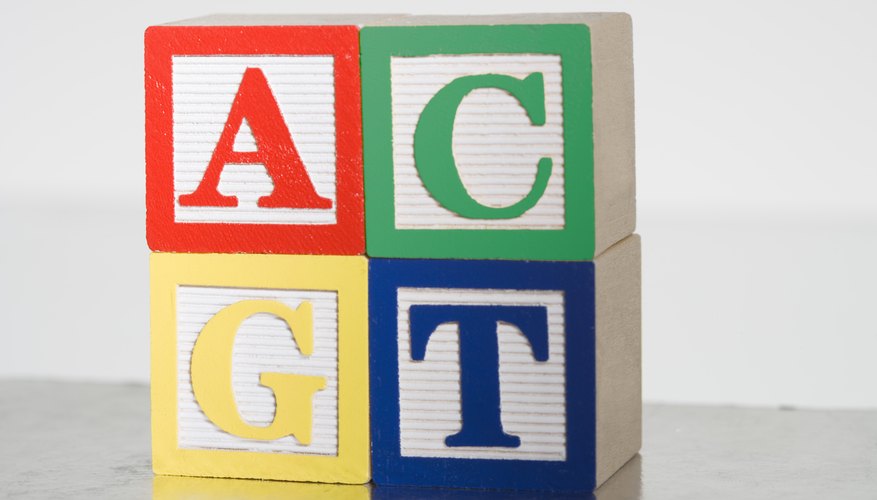 Dynamic Graphics/Creatas/Getty Images
Francis Crick, co-discoverer of the structure of the DNA molecule, summed up the central dogma of molecular biology as follows, "DNA makes RNA, RNA makes protein, and proteins make us." DNA tells cells what proteins to make -- indirectly -- through processes called "transcription" and "translation."
The DNA Code
The instructions necessary to create all of the proteins in our body are coded inside our DNA. The code is created by a unique family of molecules -- the building blocks of DNA -- called "nucleotides." The five nucleotides involved in protein synthesis are named guanine, cytosine, adenine, thymine and uracil, abbreviated as G, C, A, T, and U, respectively. Guanine, cytosine and adenine are found in both DNA and RNA. Thymine is part of DNA and not RNA; in RNA, uracil replaces thymine.
The Double Helix
The DNA molecule consists of two strands, shaped like a twisted ladder. Each side of the ladder is made up of a long chain of nucleotides linked by a bond. These bonds are organized in pairs of bases, called "complementary" base pairs. Adenine only pairs with thymine and cytosine only pairs with guanine.
Copy This Down
Genes are segments of DNA that code for proteins, and the process of reading portions of a DNA molecule to create an RNA molecule is called transcription. An enzyme accesses a gene by breaking the bonds between nucleotide base pairs at the center of the DNA molecule. The enzyme then matches complementary nucleotide bases to the base sequence of the gene, forming a single strand of RNA in the process. Uracil matches to adenine, guanine matches to cytosine, cytosine matches to guanine, and tyrosine matches to adenine.
Caught in Translation
Transcription of RNA from DNA occurs inside the nucleus of the cell. Once a strand of RNA has been created, it leaves the nucleus as one of three types of RNA, all of which play a role in building proteins. Messenger RNA (mRNA) carries the code -- the instructions -- for the creation of proteins. Ribosomal RNA (rRNA) binds with proteins within the cell to form structures called ribosomes, which are the site at which proteins are assembled. Transfer RNA (tRNA) transfers amino acids -- the building blocks of proteins -- to the ribosomes.