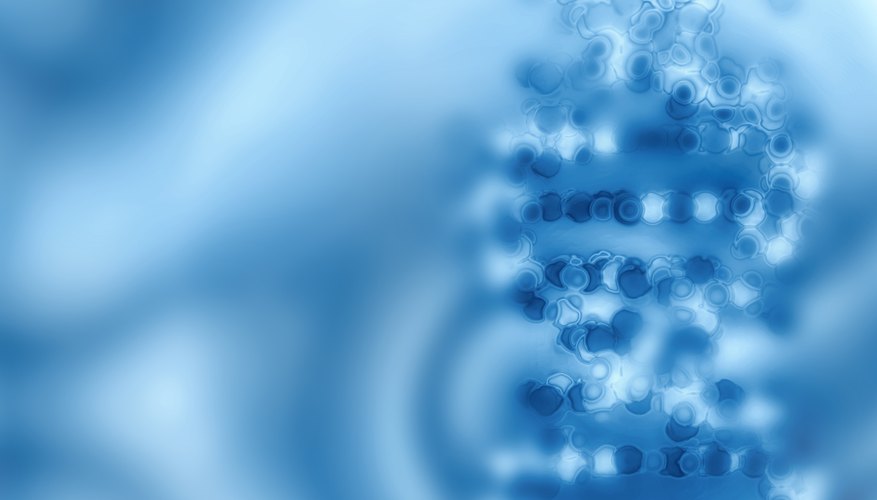 Thomas Northcut/Lifesize/Getty Images
The deoxyribonucleic acid molecule in a cell's nucleus contains the recipe in its genes for every protein synthesized and used in the metabolism of an individual. Each gene provides a blueprint for building a protein molecule. Whenever the organism requires proteins, the appropriate genes are transcribed into a form of RNA called messenger RNA, or mRNA. The mRNA builds the protein after it passes through the pores in the nuclear membrane into the cytoplasm of the cell.
MRNA Formation
The flow of information carried from the genes in the nucleus to the cytoplasm by mRNA determines the protein composition and the cell functions. Inside the nucleus, DNA transcribes mRNA for the appropriate gene, and the mRNA is then exported out of the nucleus through pores in the nuclear membrane into the cytoplasm. Here, the mRNA builds the proteins that perform cell functions or serve as building blocks of larger proteins.
Nuclear Membrane
The function of the nuclear envelope is to protect the DNA from corruption. If the massive DNA double helix passed back and forth from the nucleus to construct the proteins in the cytoplasm, the complex molecules easily could be corrupted. Pores perforate the nuclear membrane, regulating the passage of molecules between the nucleus and the cytoplasm. They prevent some molecules from passing out of the nucleus or into it and allow the passage of building blocks for DNA and RNA, and molecules that provide energy for nuclear activity such as construction of mRNA.
Nuclear Pore Complexes
Small-sized nuclear pores keep most large molecules from entering the nucleus. But some large protein molecules are required in the nucleus and enter it though a larger complex protein structure called the nuclear pore complex (NPC). This complex consists of at least 456 protein molecules. It surrounds each pore and allows larger molecules to exit or enter by expanding the pore openings to a larger size. NPC's cross the double-walled nuclear membrane, allowing the transport of water-soluble molecules through the membrane.
Transport
The function of nuclear pore complexes is to allow the water-soluble molecules to cross the nuclear membrane. The transport includes RNA, proteins, carbohydrates and other large molecules. An estimate suggests there are 2,000 NPC's in the nuclear membranes of vertebrate cells, and that a complex can conduct 1,000 transports per complex per second. Some molecules, such as water or glucose, move through the cell membranes by osmosis or diffusion, but the larger protein molecules signal the NPC's to expand so that they can pass through.