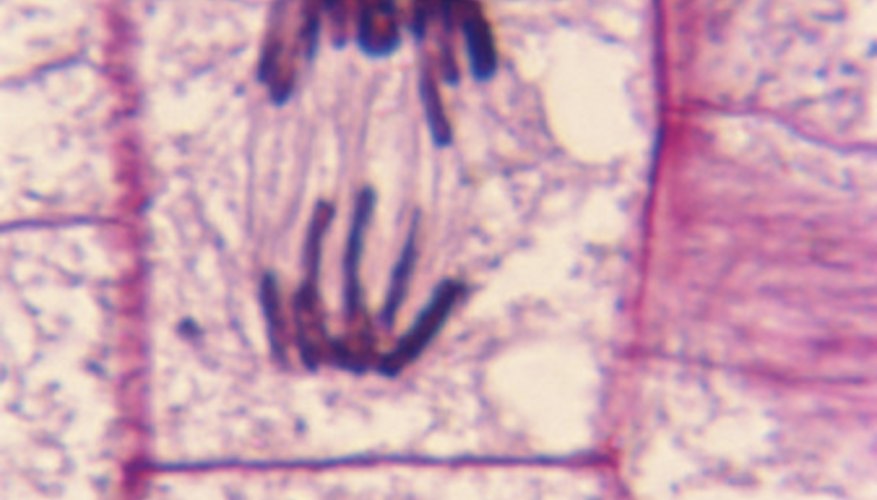 Jupiterimages/Photos.com/Getty Images
Mitosis is the process by which cells divide in a living thing. Cells keep their genetic material, DNA, inside a nucleus, which is surrounded by a membrane. The cell forms the DNA into chromosomes, duplicates them, then divides to produce two cells that are genetically identical to the original and to each other. Although the process is fluid and continuous, we can divide it up into six distinct phases. They are (in the order in which they occur) interphase, prophase, prometaphase, metaphase, anaphase and telophase. These stages can be identified using a microscope.
Finding the Chromosomes
Examine the cell and try to locate the chromosomes. Chromosomes will appear as large, distinct, dark objects in the cell. They will be either X-shaped or line-shaped depending on what stage the cell is in. If there are no chromosomes apparent, it is likely that your cell is in interphase, and the nucleus is just beginning to duplicate its DNA.
If you see chromosomes in the cell, check to see what shape they are. If they are X-shaped, the cell is in the first half of mitosis. This includes prophase, prometaphase and metaphase. If they look like single dark lines, the cell is in the second half of mitosis. This includes anaphase and telophase.
Sciencing Video Vault
Create the (almost) perfect bracket: Here's How
If the cell has X-shaped chromosomes, examine where the chromosomes are in the cell. If they are bunched together inside the nucleus, the cell is in prophase and has just created the chromosomes from the raw DNA.
If the X-shaped chromosomes are not inside a nucleus, look to see whether they are lined up across the middle of the cell. If they are not in a line and just loosely grouped inside the cell, the cell is in prometaphase. The nucleus has just broken down, and the chromosomes are beginning to move. If they are lined up across the middle of the cell, it is in metaphase and the chromosomes are preparing to divide.
If the chromosomes in the cell are line-shaped, check for their position in the cell. If they look like they are being pulled toward the ends of the cell by their centers, the cell is in anaphase. The chromosomes have just divided, and they are beginning to form new nuclei.
Check to see whether the chromosomes are bundled at the ends of the cell. If they are, the cell is in telophase, and the new nuclei are forming. You may be able to see a new membrane forming around each bundle of chromosomes. At the end of telophase the cell will constrict around the middle and divide into two. This process is called cytokinesis.
Tip
Look at as many different cells as possible. Practice will make it easier to detect the phases.