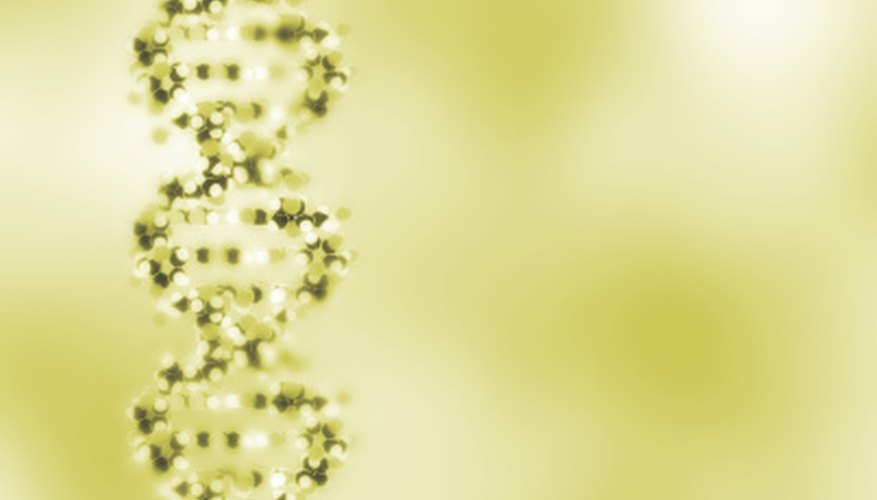 Thomas Northcut/Lifesize/Getty Images
The deoxyribose-nucleic acid (DNA) molecule poses a striking resemblance to a twisted staircase, which is made up of sugars, bases and phosphates, all bonded together by hydrogen bonds. With the exception of the backbone helix-shaped ladder, the base pairs are arranged in different combinations and are in nonsequential orders for each person in the world. To understand the DNA model better, labeling the structure will make it easier for students to visualize the autonomy of a DNA molecule.
Identify the DNA strand's four main bases: A, C, T and G. "A" represents adenine and "G" represents guanine, both are purines. "C" represents cytosine and "T" represents thymine, both are pyrimidines. The base is located within the twisted frame of the DNA molecule. Once you figure out one base of the pair, you can figure out the other one. Adenine always pairs with guanine and thymine always pairs with cytosine.

Label the frame of the DNA molecule that creates a spiral ladder shape. This helical spiral shape is created by sugar phosphates stacked on top of each other. Therefore, label the backbone as a whole, a "sugar phosphate backbone." You can also label each individual molecule of the frame as a "sugar phosphate."

Find the gap between the base pairs. Since each DNA strand has two backbones that hold one base pair on each backbone, there is a gap that binds the base pairs together. Label the gap on the DNA model, the "hydrogen bond."