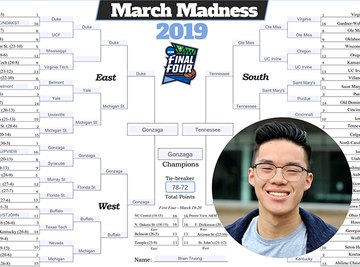 March Madness is known for the crazy storylines – and that's what this bracket is all about.
My predictions for March 2019 include a Final Four finish from Auburn, a bracket-busting run by Buffalo, and an unusual amount of upsets in the South.
Sciencing's data shows that there's been an average of 8.1 upsets per year in NCAA Tournament history. However, recently there's been an increase. From 2010-2018, March Madness has churned out an average of 11.25 upsets per year.
I'm a sucker for underdog wins, so I have several first round upsets in my bracket.
No. 11 Belmont over No. 6 Maryland
Sciencing suggests upsets are most likely to happen No. 11 vs. No. 6 matchups, so that's where I'll start. Belmont will be looking for its first NCAA Tournament win in program history, and I have them down for three. Provided that they beat Temple in the play-in round, the Bruins would be facing Maryland, the tournament's only No. 6 seed to not crack the AP's Top 25 poll.
I believe Belmont could be this year's Loyola-Chicago, crafting a great Cinderella story. While they may not have the power of Sister Jean on their side, Belmont boasts an 87.4 points per game average, the second best in the nation.
The Bruins' offense is powered by effective ball-sharing, as they average the most assists in the nation at 19.9.
No. 14 Yale over No. 3 LSU
While the data shows that No. 3 seeds have a whopping 85 percent win rate in the round of 64, I can imagine a rare upset win for Yale. LSU is far from a perfect No. 3 seed, having lost both its head coach due to an indefinite suspension and their only postseason game this year, where they were the SEC Tournament's No. 1 seed. Yale fields an experienced team with their top four scorers – all juniors and seniors – who average double digit points per game.
The Ivy League champions are standouts with their ninth-ranked 56.1 effective field goal percentage.
No. 12 Oregon over No. 5 Wisconsin
Oregon took the Pac-12 tournament by storm as the No. 6 seed, turning down opponents at every turn, including a dominant 68-48 win over the top seed to win the whole thing. So the Ducks are on a hot streak of upsets, with Wisconsin now in their flight path. Of course, the No. 5 vs. No. 12 matchup is another target for predicting upsets, according to Sciencing.
No. 13 UC Irvine over No. 4 Kansas State
This is my West Coast bias coming out, but wow, does UC Irvine look like a strong contender.
The Anteaters dominated the Big West Conference all season, taking the championship in a resounding 92-64 win. With a 30-5 overall record, UC Irvine is a solid defensive team that scores by committee. The Anteaters have the nation's best field goal defense, keeping their opponents to shooting just 40.6 from the field.
Max Hazzard leads the team in scoring with an average of only 12.5 points per game – but again, this team scores by committee. Each Anteater averages at least a point per game, with nine players averaging five or more points per game.
I personally witnessed the Anteaters' ability to share the wealth when they dismantled Cal Poly 110-72 late in the season. In that game, every UC Irvine player got on the score sheet and six of them reached double digits. Even against the tougher opponents in the Big West Tournament, UC Irvine continued the point-sharing.
Across the three games, there were only three instances players who did not get on the score sheet.
Especially with Kansas States' starting lineup in disarray as senior forward Dean Wade could be out due to injury, UC Irvine have a strong case for a rare upset win by a Big West team in the NCAA Tournament.
No. 11 Saint Mary's over No. 6 Villanova
Here's another of Sciencing's favored No. 6 vs. No. 11 upset matchups. This is a tough one, but maybe there will be something in the water in Louisville, Kentucky that causes these upsets. Villanova are obviously a very different team compared to last year's NCAA Tournament champions. The Wildcats are without last season's four leading scorers and struggled towards the end of the regular season, losing five of eight games. However, the Wildcats are back to defend their championship title after picking up a hot streak to win the Big East Tournament.
No. 12 Murray State over No. 5 Marquette
This is definitely one of the most hyped matchups of the first round, and I'm all in on Ja Morant. And the rest of the Murray State team, of course. They've won 11 consecutive games and rank fourth in three-point defense in the nation according to KenPom. They also have Ja Morant, who scored 36 points in their Ohio Valley Tournament title-clinching game. Meanwhile, Marquette has struggled recently, losing eight of their last 10 games.
Also, they don't have Ja Morant on their team.
So by a measure of Ja Morants, Murray State takes this by long shot. But really, Murray State is the hot team currently, and have a good chance to take the win in another data-favored matchup for upsets.
Honestly though, all I really want is more than one game of Ja Morant at the Big Dance.
I have to admit, this was much harder than I thought it would be, as it was my first time seriously creating a March Madness bracket. However, I can at least boast that my randomly-picked bracket for last year's tournament beat out fellow writer Ayrton Ostly's bracket. By one spot.
So here's to hoping I'll do even better this time.
About the Author
If there is anything Brian Truong loves more than hockey, it's making strange sports predictions. The Bay Area native is a journalism junior at Cal Poly. As the current sports editor for Mustang News, Brian has spent the last three years reporting from the sidelines of Division I sports. He earned a 2017-18 Associated College Press Pacemaker honorable mention for his feature, "The relentless Ayzhiana Basallo - How an undersized point guard found herself at Cal Poly, shot, after shot, after shot."