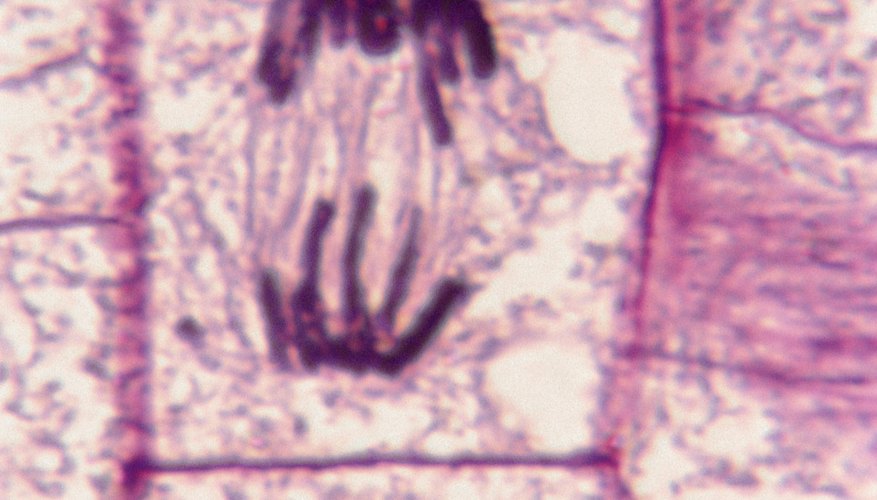 Jupiterimages/liquidlibrary/Getty Images
Mitosis is the division of a cell nucleus prior to division of the cell itself. It involves replication of the cell's DNA and is followed by cytokinesis, or the division of the replicating parent cell into two usually identical daughter cells. Eukaryotes, lifeforms whose cells contain a true nucleus inside a nuclear membrane, use mitosis to develop, grow, and repair their bodies.
Multiple Domains
Life on Earth would look very different without mitosis. Mitosis is the engine that drives development and growth for eukaryotic organisms. Four domains of life, Protista, Fungi, Plantae, and Animalia are eukaryotic. They're differentiated from the prokaryotic domains of Archaea and Eubacteria by their true nuclei, the chromosomes of each species' genome are contained within a nuclear membrane. Domain Protista is composed of single-celled eukaryotic organisms. With the exception of certain fungi, or life stages thereof, all of the other eukaryotes are multicellular organisms.
Multiply and Move Away
There are five stages of mitosis. In prophase, chromatin condenses into chromosomes made up of sister chromatids joined at centromeres, and centrioles, the bases that will pull the chromatids apart, move to opposite poles on the cell's membrane. In prometaphase, the nuclear membrane dissolves and microtubules extending from each centriole grab the chromosomes' centromeres. In metaphase, the chromosomes line up across the center of the cell to form the "metaphase plate." In anaphase, the sister chromatids separate and the microtubules pull one copy to each cellular pole. In telophase, all chromatids reach their respective poles, are encased in new nuclear membranes, and disperse back into a mass of chromatin.
Bigger and Better
Mitosis doesn't just affect life, it makes it possible for all multicellular eukaryotic organisms. Mitosis allows fertilized eggs to develop into viable, individual organisms. These neonates proceed to grow into adult individuals through further mitosis. Multicellular eukaryotes continue to use mitosis to replace damaged and dying cells throughout their life cycles. Since the number of individual cells in a single multicellular eukaryotic organism can run into the billions, it's easy to see how critical the ability to replicate them really is. In addition, most single-celled eukaryotes depend on mitosis for reproduction.
Conservation for Survival
The orderly phases of mitosis also affect life by minimizing errors in DNA replication. In particular, the linear metaphase plate and the joining of at least one microtubule from each centriole to each centromere help to ensure that each daughter cell receives one, and only one, copy of each chromosome. This conservation and equal dispersal of genetic information prevents most of the replication errors that could prove lethal to an organism.