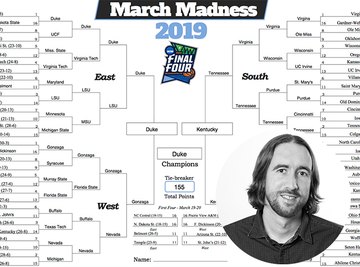 Well, I didn't see that one coming.
But then again, neither did just about anyone else.
After two wild weekends of March Madness, we're left with a most improbable Final Four of Virginia, Texas Tech, Michigan State and Auburn. I, meanwhile, have an utterly busted bracket with zero of those teams correctly forecasted.
Yet I am but one of millions of disappointed wannabe clairvoyants. The NCAA says just 0.02 percent of people predicted this Final Four. Ouch.
After the tourney's first weekend, Sam-plus-data was looking pretty good. I got 23 of 32 first-round games right. Better yet, I correctly picked 13 Sweet Sixteen teams.
I felt, if not proud, at least worthy of a mediocre level of respect.
Then came this weekend, which decimated brackets everywhere.
Three-seeds Texas Tech and Purdue upset two-seeds Michigan and Tennessee, respectively. This despite Sciencing data telling us two-seeds beat three-seeds in the Sweet Sixteen 63 percent of the time those matchups occur. Other favored teams for the most part did what they were supposed to do in the Sweet Sixteen, but Auburn over North Carolina was the round's real shocker.
Sciencing's data says one-seeds beat five-seeds a whopping 83 percent of the time they face off in the Sweet Sixteen. Yet, there was Auburn, seeded fifth, in the Midwest, knocking off North Carolina, the region's top seed. Auburn didn't just beat the Tar Heels, though. Oh, no. They obliterated North Carolina 97-80 behind 12 second-half three-pointers.
Data can't predict that, folks.
Auburn then kept its upset mojo working in the Elite Eight by taking out two-seed Kentucky. Of the four Elite Eight matchups, in fact, only one was won by the favored team. Virginia, top seed in the South, beat three-seed Purdue. But elsewhere, two-seed Michigan State beat tournament favorite and one-seed Duke, while three-seed Texas Tech upset one-seed Gonzaga.
Which brings us back to our most improbable Final Four of Virginia, Texas Tech, Michigan State and Auburn.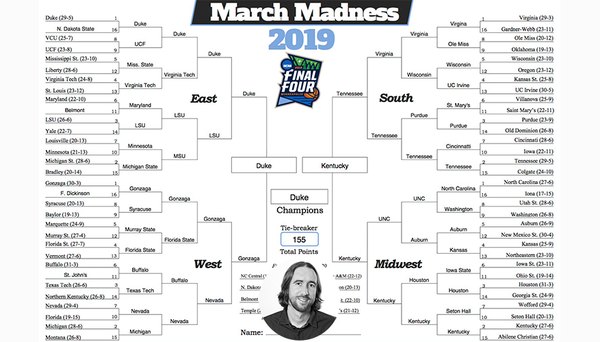 It's comforting to know that I'm far from alone in staring at the shards of a busted bracket. Remember that NCAA stat that only 0.02 percent of people predicted this Final Four? They say misery loves company, and I'm happy to have plenty of company here.
Some statistical trends did hold true though, per Sciencing data. Of 34 Final Fours since 1985, 32 have featured at least one number-one seed. That's again the case here, thanks to Virginia. And all 34 Final Fours since 1985, including this year's edition, have featured at least one top-four seed.
As improbable as this year's Final Four is, though, it is missing a true, true Cinderella story. Virginia is a one-seed, Michigan State a two, Texas Tech a three and Auburn a five. But the previous six Final Fours going back to 2013 all featured at least one team seeded seventh or higher. Go figure.
So what's next?
With last weekend having destroyed my bracket along with the brackets of so many others, I'm throwing data out the window for my revamped Final Four picks and going strictly by my gut. Virginia over Auburn and Texas Tech over Michigan State. Then Virginia over Texas Tech for the championship.
Despite the disappointment of a busted bracket, there's liberation in that failure as well. Now, instead of worrying about how real-life events will effect my predictions, I can put my self-absorption aside to just sit back and enjoy the basketball.
So let's go. Three more games in what's been another unforgettable March Madness. We'll check back next week, after a national champ has been crowned, for one final recap.
About the Author
Sam Laird is a journalist who has written for publications including SLAM, Mashable and The New York Times. He's covered the World Cup, NBA Finals and World Series in-person, but his most memorable reporting experience might have come at a cannabis wedding exposition in Colorado. Born and raised in Berkeley, California, Sam has become all too accustomed to pain and disappointment as a lifelong Cal Bears fan. However, he's also a longtime fan of the Golden State Warriors, whose recent run of success is helping him learn to love again. Sam currently lives in Madrid, Spain, where he does freelance writing and teaches English.