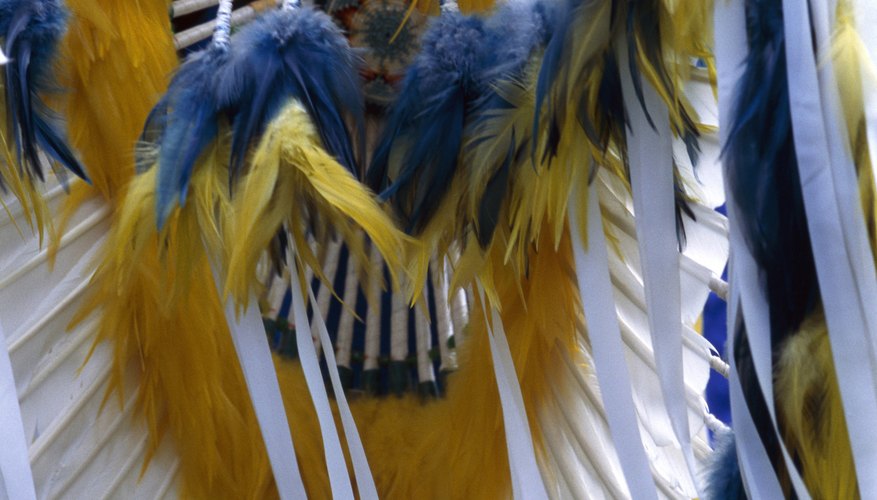 Dynamic Graphics Group/Dynamic Graphics Group/Getty Images
Navajo culture is steeped in symbolism. The number four is prominent and associated with everything that connects the people to the Creator. For example, colors play an important role in spiritual teachings. The four main colors connected to Navajo beliefs include black, white, blue and yellow. Each color has many meanings, depending upon the situation or ceremony. Navajo Indians use the four colors in art and weaving to honor the significance of the power and connection to the Creator.
Creation
The Navajo story of creation recalls how four stones were placed in the four directions. The First Man blew on them and created a home. The four directions and colors correspond with the sacred elements of nature. The light is white and from the east, water is blue and from the south, air is yellow and from the west and earth is black and from the north. The Creator combined these aspects of nature to create Holy People. Holy People created all parts of the earth, including people. The connection that exists between the four directions, the colors, natural elements and people are the basis of spirituality and a way of being for Navajo people.
Geography
The four colors are associated with the cardinal directions. The directions are symbolic of the four mountains that define the Navajo homeland. Black represents north and is symbolic of the Dibe Nitsaa or Hesperus Peak in southwestern Colorado. White is known as east and Sisnaajini or Blanca Peak in south-central Colorado. Blue is connected to the south and Tsoodzil or Mount Taylor near Grants, New Mexico. Finally, yellow is symbolic of west and Dook'o'oosliid or the San Francisco Peaks by Flagstaff, Arizona.
Weaving
Navajo people use many forms of art to share traditional stories. Messages about spirituality and beliefs are represented in weaving. The four colors are central to the spiritual art form. For example, beaded baskets use each of the colors to share spiritual beliefs related to the cycle of life. White signifies birth, blue indicates youth, yellow describes maturity and black represents death. Navajo people honor each cycle in a spiritual way and the art connects the color through story and ceremony. Art may be given to a leader or to an elder in an honoring ceremony to signify a specific role or responsibility.
Spiritual Objects
Navajo beliefs are directly connected to the four colors, which are used to share information on spiritual objects. Precious stones and shells representing each color are used to represent the four mountains that serve as Navajo land. Sand paintings used in spiritual ceremonies depict guards watching over sacred elements such as tobacco, squash, beans and corn. For example, the Creator sends a white guard to watch over the corn so that the children will have food. Each color is used in the art to teach children about traditional culture and history of the Navajo people.