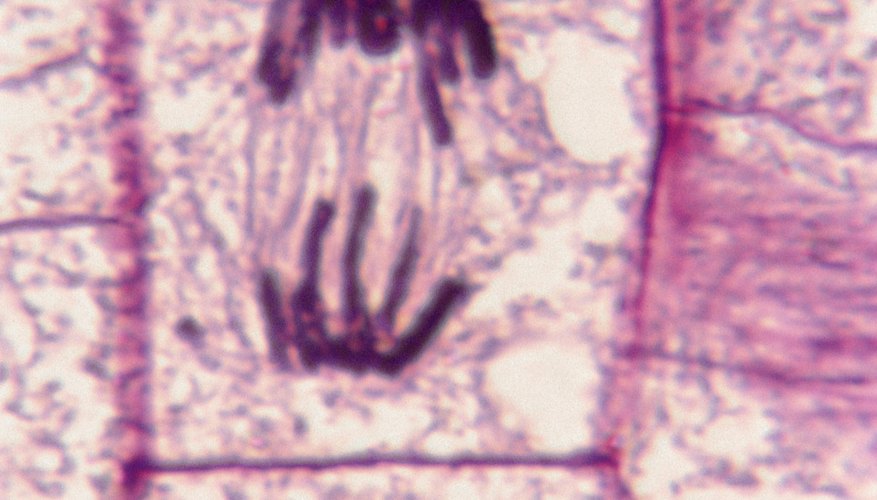 Jupiterimages/liquidlibrary/Getty Images
Before a cell can divide, it must duplicate its genetic material and distribute it to the daughter cells. A cell of a eukaryotic organism features an organized, membrane-enclosed nucleus containing the deoxyribonucleic acid, DNA, chromosomes and an organelle called a nucleolus. During the processes of nuclear division -- mitosis and meiosis -- the nucleus and nucleolus reforms during the telophase stage.
The Mitotic Phase
Cells alternate between a resting phase, or interphase, and the mitotic phase, which consists of mitosis and cytokinesis, or cell division. During the S phase of interphase, the chromosomes are in a relaxed state that allows the cell to duplicate each DNA molecule. The duplicates are called chromatids and each pair is attached via a chromosome structure called the centromere. Humans have 46 chromosomes, known as the diploid number, made up of two matching sets of 23, one set from each parent. Mitosis begins when the double-chromatid chromosomes begin to condense.
Pre-Telophase Events
Mitosis is divided into prophase, prometaphase, metaphase, anaphase and telophase. During prophase, the chromosomes condense and the cell forms two round centrosomes that will eventually pull the chromatids apart. The nucleus and nucleolus disintegrate during prometaphase and microtubules dispatched from the centrosomes approach the chromosomes. The microtubules attach to and centrally align the chromosomes during metaphase. During anaphase, the centromeres dissolve, freeing the sister chromatids that are then reeled in by the centrosomes so that each side of the cell contains the diploid number of chromosomes.
Telophase
During telophase, the cell mixes old nuclear membrane fragments with newly synthesized ones to reform a nucleus around each diploid set of chromosomes. The nucleoli also reform. Their job is to assemble ribosomes, the cell's protein factories, and export them from the nucleus to the cytoplasm beyond the nuclear membrane. The cell now elongates and cytokinesis occurs, in which the cell cleaves down the middle. The result is two daughter cells having the diploid number of chromosomes. The two new cells then enter interphase and the cycle repeats.
Meiosis
Meiosis creates the sex cells, or gametes, that have a single set of chromosomes, known as the haploid number. Meiosis occurs over two cell cycles and therefore has two telophases. During meiosis I, the chromatids do not separate, yielding two haploid daughter cells. In meiosis II, the chromatids cleave as in mitosis and each daughter cell divides into two granddaughter cells. In this way, one diploid cell creates four haploid gametes. Telophase I and II are similar to mitotic telophase as the nuclei and nucleoli reform in each.