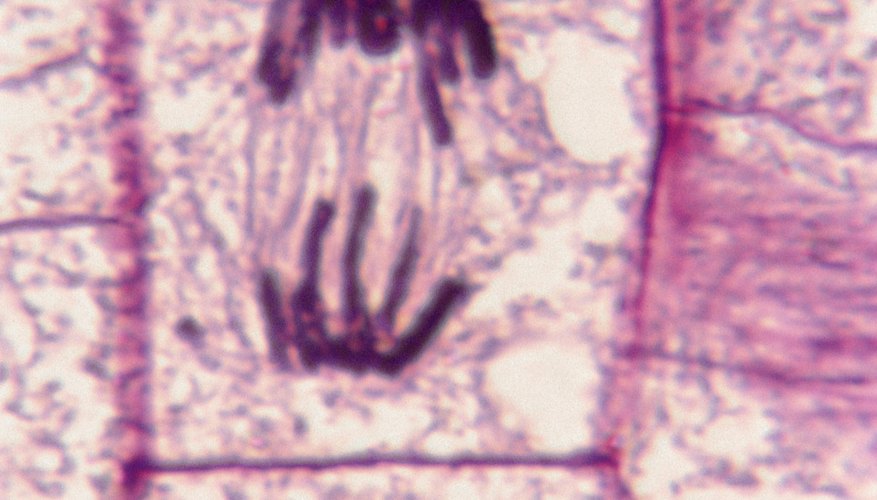 Jupiterimages/liquidlibrary/Getty Images
The value of mitosis to a human body is incalculable, because it is the way the body grows and also the way it repairs itself. Mitosis requires several steps to carry out these two vital functions, and can be watched under a microscope using specific staining techniques that highlight the variety of cellular machinery involved in mitosis and cell duplication.
Growth
At the beginning of human life, a fertilized egg becomes a zygote with a full complement of genetic material. This single cell needs to grow into a multicellular baby, so it uses mitosis to grow and develop. This process is most rapid and widespread in youth. In adulthood, constant mitosis is also necessary in tissues that turn over rapidly, such as the skin, the lining of the gastrointestinal tract and in bone marrow to replace short-lived blood cells.
Repair
Some cells of the body cannot use mitosis to replace damaged cells, including nerve cells or muscle cells, but many cells can. For example, if you cut yourself, the skin cells next to the cut mitose to make new cells to cover the cut over and repair the skin barrier. A broken bone also requires mitosed bone cells to repair the break. Without this capability, minor injuries would be much more dangerous than they are, and humans would never be able to recover from broken bones or other injuries.
Stages of Mitosis
The process of making a new daughter cell from an old cell requires five steps. These can be remembered as "IPMAT," for interphase, prophase, metaphase, anaphase and telophase. Interphase is the first phase and involves the cell preparing to divide, so it starts replicating its genetic material. During prophase, the cell machinery, in the form of spindles, centrioles and centromeres, begins to arranges itself so that the chromosomes can be pulled to either side of the parent cell. During metaphase, the chromosomes are lined up neatly in the center of the cell and the spindle is ready to pull them apart. In anaphase, the spindle pulls the chromosomes to each end of the cell. In telophase, the daughter cells reform their membranes and are ready to split apart as two distinct cells.
Mitosis Gone Awry
In normal tissues, mitosis to repair damaged areas only continues until the damaged cells are replaced with new cells. These new cells act as if they were the original cells and only mitose if that's what the previous cells would do. If this process is unrestrained by normal cellular controls, then a tumor grows. This tumor can be benign or malignant, but both represent uncontrolled mitosis.