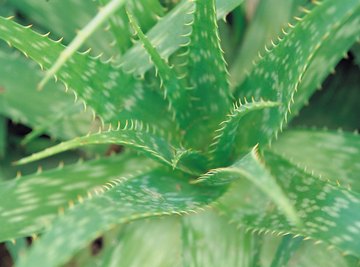 •••
Photos.com/Photos.com/Getty Images
All living things need energy in order to survive and carry out life processes. Some of the most fundamental differences between living organisms involve how and what they eat.
Whether an organism makes its own food or eats another organism for food, it uses the process of cellular respiration to turn its food into usable energy.
Cellular Respiration: Definition
All living things use cellular respiration to turn organic molecules into energy. Cellular respiration is the chemical process of breaking down food molecules in order to create energy in the form of adenosine triphosphate (ATP). This process makes energy from food molecules available for the organism to carry out life processes.
For some organisms, including many bacteria, anaerobic respiration is a way of life. Fermentation is a specific type of anaerobic respiration that is used by yeast and some bacteria.
Cellular Respiration: Equation
Cellular respiration can be represented by the equation:
C6H12O6 + 6O2 → 6CO2 + 6H2O + ATP
The cellular respiration equation represents the process through which glucose molecules react with oxygen, creating energy in the form of ATP as well as carbon dioxide and water as byproducts.
Cellular respiration is a series of smaller chemical reactions that can vary depending on the type of organism; however, the cellular respiration equation represents the main components of this process that are common among most organisms.
Types of Cells That Undergo Cellular Respiration
Living organisms can be grouped into two categories: eukaryotes and prokaryotes. Eukaryotes are organisms whose cells have a nucleus and membrane-bound organelles. Prokaryotes are organisms whose cells lack a nucleus.
Eukaryotes carry out cellular respiration with the help of mitochondria. Mitochondria are organelles that produce the enzymes necessary to catalyze the series of reactions that produce ATP. Mitochondria are required to carry out cellular respiration in eukaryotic organisms. Types of organisms with eukaryotic cells include animals, plants, fungi and protists.
Prokaryotes do not have mitochondria and produce the enzymes for cellular respiration using their cell membrane. Although they lack mitochondria, these types of cells can still undergo a form of cellular respiration to turn their food molecules into usable energy in the form of ATP.
Two Types of Organisms
There are two main types of organisms that use cellular respiration: autotrophs and heterotrophs.
Autotrophs are organisms that can make their own food. The types of organisms that are autotrophs include plants as well as some bacteria and protists (such as algae).
Heterotrophs are organisms that cannot make their own food. The types of organisms that are heterotrophs include animals, fungi, some protists and bacteria.
Autotrophs: Organisms That Can Make Their Own Food
Autotrophs, also known as producers, can be grouped into two main categories: photoautotrophs and chemoautotrophs.
The majority of autotrophs are photoautotrophs, which are organisms that use the sun's light to do photosynthesis. Photosynthesis is the process of transforming the sun's energy to make glucose molecules.
Types of organisms that use photosynthesis are plants, some bacteria and plant-like protists.
Cellular Respiration Example: Photoautotrophs
The vast majority of plants are autotrophs and rely on photosynthesis to make their food. When plants are not undergoing photosynthesis, they use cellular respiration to transform the glucose molecules they make into energy they can use for carrying out life's processes.
Plants "breathe" in oxygen during photosynthesis and breathe out carbon dioxide during cellular respiration. This cellular respiration example has a large effect on the composition of the Earth's atmosphere.
Cellular Respiration Example: Chemoautotrophs
Chemoautotrophs are bacteria that can make their own food but use chemicals for this process instead of sunlight. Chemoautotrophs undergo cellular respiration to transform inorganic molecules into energy they can use.
This is a cellular respiration example that occurs in extreme conditions that are usually devoid of light and oxygen. These types of organisms transform inorganic molecules such as hydrogen sulfide, methane or ammonia into organic molecules that they can use for food.
Heterotrophs: Organisms That Cannot Make Their Own Food
Organisms that cannot make their own food are called heterotrophs.
Another word for heterotrophs is consumers. These organisms must consume organic molecules created by other organisms for their food. Heterotrophs will eat autotrophs or other heterotrophs.
Cellular Respiration Example: Heterotrophs
Heterotrophs are required to consume other organisms or parts of organisms in order to obtain their food molecules. They undergo cellular respiration in order to turn the food they eat into energy they can use.
Heterotrophs rely on autotrophs that store energy from the sun as biomass that the heterotrophs can consume. Autotrophs that use photosynthesis provide over 99 percent of the energy used to support all life on Earth.
References
About the Author
Emily Neal is a freelance science writer and nature photographer. She has a B.A. in Environmental Science from Mount Holyoke College and has worked for many years teaching science at the middle school level. For fun and inspiration she transcribes and edits novels, writes and plays music, and forages for wild mushrooms and mineral specimens.
Photo Credits
Photos.com/Photos.com/Getty Images