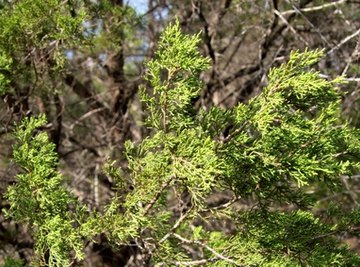 Texas, also known as the "Lone Star State," is the second-largest state in the United States at approximately 270,000 square-miles and is home to a variety of ecosystems. Texas ecosystems range from dry deserts to swampy wetlands.
On the Texas geography map, eastern Texas is primarily wetlands and forests, while northern and central Texas features prairie grasslands. One of the largest desert ecosystems in the world, the Chihuahuan Desert, dominates the landscape in western Texas.
Forests
The state of Texas has approximately 60 million acres of forest land, making it second place in the United States behind Alaska in terms of forest acreage. Most of the wooded physical features of Texas are located in east Texas.
Nearly 35 percent of forests in Texas are mesquite while 25 percent are hardwood forests. Two of the larger forests in Texas are Sam Houston National Forest and Angelina National Forest, both in eastern Texas.
These forest ecosystems contain a variety of animals including raccoons, opossums, squirrels, rat snakes and the famous armadillo. You'll also find many plant species including the Southern red oak, flowering dogwoods, southern magnolias, honeysuckle and the American beautyberry shrub.
Prairies
The Texas prairie ecosystems are primarily in northern and east-central Texas. These ecosystems are the American version of temperate grasslands, which feature dry soil, moderate rainfall and shrubs rather than trees. The largest prairie grassland areas in Texas include Lyndon B. Johnson National Grasslands in northern Texas, while eastern Texas is home to the Texas Blackland Prairies.
Texas is also home to a coastal prairie region near the Gulf of Mexico. During the 19th century, Texas had more than million acres of coastal prairies, a number that has been reduced to approximately 65,000.
Common organisms in these grasslands include the mockingbird (the official bird of Texas), the armadillo, wood ducks, cottonwood trees, pecan trees, elm trees and many species of tall grasses. Texas prairies are also famous for their large variety of beautiful wildflowers, like:
Columbine
Turk's Cap
Indian Paintbrush
Cardinal Flower
Scarlet Sage
Brown-eyed Susan
Texas Bluebonnet
Purple Coneflower
Desert
West Texas is home to the Chihuahuan Desert, which is one of the largest deserts in the world at more than 139,000 square miles. This ecosystem has an arid climate and dry soil. Plant life includes shrubs and flowering plants that require rocky soil and grow at high altitudes.
According to the World Wildlife Fund, the Chihuahuan Desert is one of the most biologically diverse deserts on earth. This region is home to the creosote bush and yucca plants; animals species include the endangered Mexican wolf, cougars, antelope, mule deer, kit foxes, prairie dogs and various species of lizard, snake and amphibians.
You'll also find various cacti and succulents in this dry and arid climate that have adapted to survive with minimal water/moisture.
Wetlands
While many of the ecosystems in Texas have dry climates, the Lone Star State features a variety of wetland ecosystems such as swamps, riparian areas, lakes and marshes. A wetlands ecosystem is an environment where much of the ground's surface is covered by water.
One of the largest swamps in Texas is in Caddo Lake State Park in northeastern Texas, while the largest lakes in Texas include Sam Rayburn Lake – which has 79 miles of shoreline – and Lake Texoma – a body of water with more than 1,000 miles of shoreline. Wetlands is home to a variety of plant life, such as cypress trees and the Chinese tallowtree.
Animals in these wetland ecosystems include the whooping crane, raccoons, various species of turtles and amphibians, Atlantic croaker and other fish, sea turtles, whelk and water snakes.
References
About the Author
Skip Davis has been writing professionally since 2005. His work has appeared in "Southern Literary Magazine," on various websites and in graphic panels at the Jackson Zoological Park in Jackson, Miss. Currently living in Southern California, Davis received his Bachelor of Arts in theater at Belhaven College.
Photo Credits