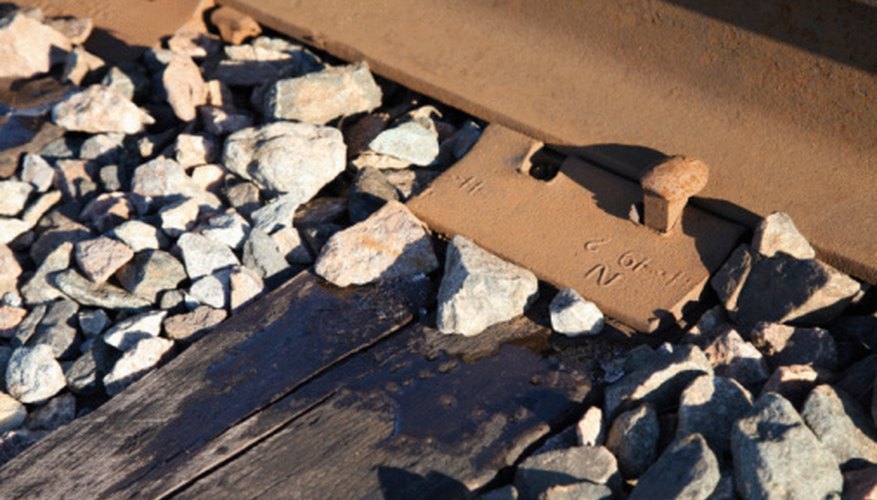 Jupiterimages/Photos.com/Getty Images
The exact size and length of a railroad spike is determined by a number of factors, including the type of wood being used for the ties and the weight of the track itself. However, for the most part spikes are 9/16-inch square and 5 or 5 1/2-inches long under the back of the head. The underside of the head of the spike is inclined at the same angle as the slope of the top side of the rail flange to which it is hammered, most commonly 13 degrees. That said, there are actually just over two dozen combinations of length and thickness of railroad spikes from which to choose.
The Smallest Railroad Spikes
The smallest railroad spikes are 2, 2 1/2, 3 and 3 1/2 inches in length, respectively. The 2-inch spikes can be 5/16- or 3/8-inch thick, the same for the 2 1/2-inch-long spikes. The 3 and 3 1/2-inch spikes are only made in thickness of 3/8 inch. These spikes are used in hardwood ties, such as oak, and are only used for the lightest types of track — track weighing between 12 and 16 pounds per yard.
Spikes for Track Weighing 16 to 20 Pounds Per Yard
The next largest spikes, designed for the next track weight — 16 to 20 pounds per linear yard — are 2, 2/1/2, 3 and 4 inch-long spikes. What makes these spikes different from the smaller sized spikes is the thickness of their shaft. Each of these spikes have a thickness of 7/16 inch are all are designed for use in hardwood ties, such as dried oak.
Spikes for Track Weighing 20 to 30 Pounds Per Linear Yard
There is one spike designed for this heavier weight of track that is only 7/16-inch thick, and that is a 4 1/2-inch-long spike. All other spikes for this heavier track are a full 1/2-inch thick. This includes spikes of lengths: 3, 3 1/2 and 4 inches. These ties can be used in both hardwood ties as well as softer seasoned white oak. For softer woods, such as the white oak, an additional consideration must be kept in mind — the sharpness of the cutting point that is being driven into the wooden tie. For hardwoods, the cutting point is longer and extremely sharp, but for softer woods the cutting point should not be longer than 1 1/2 inches, with 1 inch being preferred.
Spikes for Heavier Track
For heavier track, anything from 40 pounds per yard all the way up to the heavy-duty track weighing 130 pounds per linear yard, spikes need to be a minimum of 9/16-inch thick under the head, and, for the really heavy track, spikes are a full 1/2-inch thick. For heavier tracks, as may be expected, spikes are longer — up to 6 inches in length. If hardwood ties are used, the maximum spike length is generally 5 inches, with the 6-inch spikes reserved for ties made from softer woods.