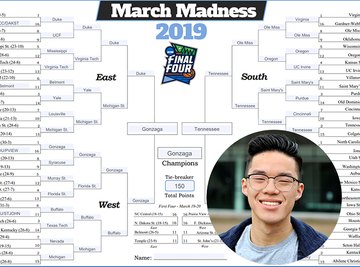 What a unique March this has been. It has been proven that time and time again, no NCAA Tournament is ever the same. As I have admitted previously, I went way too upset crazy in my bracket, especially with so many many projections of low-seeded teams making deep runs.
Of course, hindsight is 2020. From a few first round upsets to an Elite Eight that should be considered to be the dictionary definition of "bracket buster," let's take a look at some of the lessons this year's March Madness has taught us.
The Lessons of March Madness 2019
A top three seed will win the tournament. Congratulations, Virginia!
At least one upset will occur throughout the tournament.
Not all four No. 1 seeds will make it to the Final Four, but there will at least be one No. 1 seed in the Final Four. This one was just barely true. Gonzaga and Duke were eliminated in the Elite Eight while North Carolina was dropped in the Sweet Sixteen.
No seed lower than No. 8 will make it to the championship game. This year, no seed lower than No. 8 even made the Elite Eight. No. 13 Oregon was knocked out in the Sweet Sixteen.
At least one of the top four seeds will make it to the championship game. Virginia just barely made it, pulling off a 63-62 win over Auburn to make the championship game.
Identifying First Round Upsets
With more than half of the tournament upsets occurring in the first round, it's hard to choose the right ones in the opening round. I overextended my expectations for upsets, missing on quite a few predictions.
No. 12 Oregon over No. 5 Wisconsin (72-54)
This is the second-most common matchups for upsets, as No. 12 seeds have a 35 percent win rate. As I wrote in my tournament preview, Oregon was on an insanely impressive run prior to the tournament. The Ducks went from being the No. 6 seed in the Pac-12 tournament, but ended up taking flight to win the Pac-12 title in dominant fashion. Oregon obviously carried that momentum into the big dance, becoming this year's only team lower than a No. 5 seed to reach the Sweet Sixteen.
No. 13 UC Irvine over No. 4 Kansas State (70-64)
This was a game with an even lower chance of an upset, as No. 13 seeds only win 21 percent of these matchups. However, UC Irvine was a team built to surprise the national audience. Despite a lack of outright star power, the Anteaters completely dominated the Big West Conference through team-scoring and impressive defense. Kansas State was ripe for an upset, as the weakest No. 4 seed and missing a key player.
Lesson learned: For first round upsets, look for teams that dominated their conference, got real hot entering the tournament, or both. Also, avoid picking low seeds to make it further than the second round.
The Craziest Elite Eight
They can't keep getting away with it . Was what I thought when Duke narrowly avoided an embarrassing early exit in both the second round and the Sweet Sixteen.
Duke squeaked by with a 77-76 win in the round of 32 after No. 9 UCF missed a potential game-winning last second tip-in. Then, another missed tip-in at the buzzer, this time by No. 4 Virginia Tech, gave Duke a 75-73 win in the Sweet Sixteen.
The Blue Devil's house of cards finally came tumbling down in the Elite Eight, when they lost 68-67 to No. 2 Michigan State.
When this year's bracket was released, many lamented Michigan State's misfortune, expecting the Spartans to be rolled over by the Zion Williamson hype train. So, it was only fitting that the Big Ten champions would be the ones to usurp Duke.
In hindsight, Duke's flaws were quickly revealed early in the tournament. Teams exposed their lack of offensive strategy and poor three-point shooting, resulting in surprisingly close games for the top-seeded team. Of course, any negative coverage of the Blue Devils' regular season was probably lost in the media storm of Zion Williamson hype.
Lesson learned: When looking at tournament favorites, really look for and evaluate their negative stats. Three-point shooting is important. And if the hype is focused on just one player, run the other way.
Auburn's Odds-Defying Final Four run
I have already covered Auburn's impressive run to the program's first ever Final Four appearance. The Tigers defied the odds multiple times.
After winning their second round game over No. 4 Kansas, a matchup that No. 5 seeds win 44 percent of the time, Auburn pulled off a Sweet Sixteen upset over No. 1 North Carolina. No. 5 seeds only have a 17 percent win rate in this matchup. The Tigers advanced to the Final Four by defeating No. 2 Kentucky.
Those last two wins came without prevalent point-scoring sophomore forward Chuma Okeke. As Auburn fell to the eventual champions, No. 1 Virginia, in a close 63-62 nailbiter, we can only imagine what kind of damage the Tigers could have done deep into the tournament.
Auburn's run was the type you simply can not predict. After they just squeaked by the first round after No. 12 New Mexico State missed potential game-winning free throws, I penciled Auburn in as an early bracket buster for me. Little did I know that they would be the only Final Four team I predicted right.
Lesson learned: When picking your lower-seeded (No. 5 or higher) Final Four pick, choose one and hope for the best.
Those are a few valuable lessons to take away from the the 2019 NCAA Tournament. Bookmark this for next year. Or don't, because no one can predict what will happen next.
About the Author
If there is anything Brian Truong loves more than hockey, it's making strange sports predictions. The Bay Area native is a journalism junior at Cal Poly. As the current sports editor for Mustang News, Brian has spent the last three years reporting from the sidelines of Division I sports. He earned a 2017-18 Associated College Press Pacemaker honorable mention for his feature, "The relentless Ayzhiana Basallo - How an undersized point guard found herself at Cal Poly, shot, after shot, after shot."