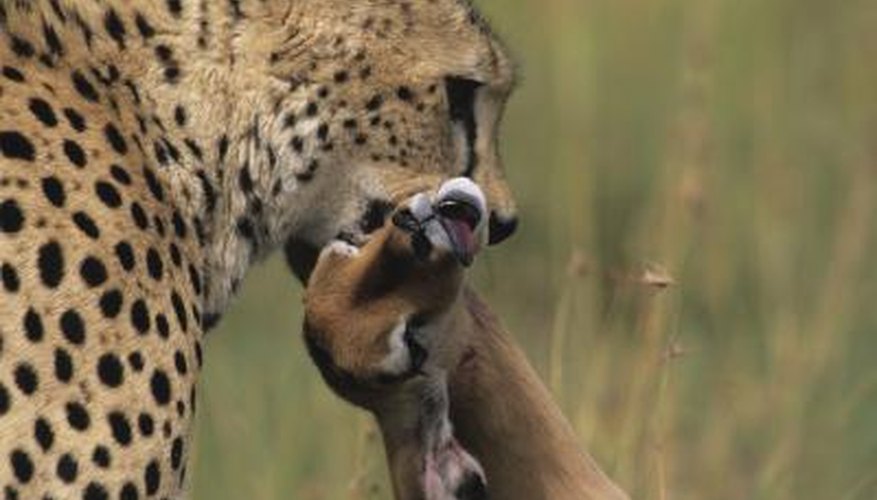 Anup Shah/Digital Vision/Getty Images
Food chains show predators and consumers in a linear fashion. Food webs combine food chains and make a more realistic representation of an ecosystem. Food webs consist of producers such as plants and plankton, primary consumers which are herbivores, secondary consumers which are carnivores and omnivores, and tertiary consumers which are predators that prey on other predators. A little knowledge on how to follow a food web will help you learn more easily how an ecosystem functions.
Familiarize yourself with the layout of the food web. Some webs will have different colored boxes to indicate producers and consumers. Some will even have different colored arrows showing levels of consumers. A general idea of which organisms are producers, herbivores, omnivores and carnivores will help you get a feel for the web.
Identify the producers to begin reading the web. These include grasses, flowers and trees as well as nutrients, bacteria, plankton and decaying organisms. Basically, look for anything that does not consume anything else.
Follow the arrows to the next level of organisms. The arrows point from the consumed to the consumer. The organisms at the end of these arrows are the primary consumers, which are the animals that only consume plants and other producers.
Trace any arrows coming out of these animals to find the secondary consumers, which are made up of carnivores and omnivores. Tracing the arrows up one more time will lead you to the tertiary consumers. These are the top-level carnivores, which are predators that prey on other predators.
Tip
Sometimes the arrow direction will be reversed. Being familiar with producers and consumers will help you gain your bearings if this is the case. Food webs can be complicated at times; do not get overwhelmed. Simply find the producers and follow the arrows from each producer individually.