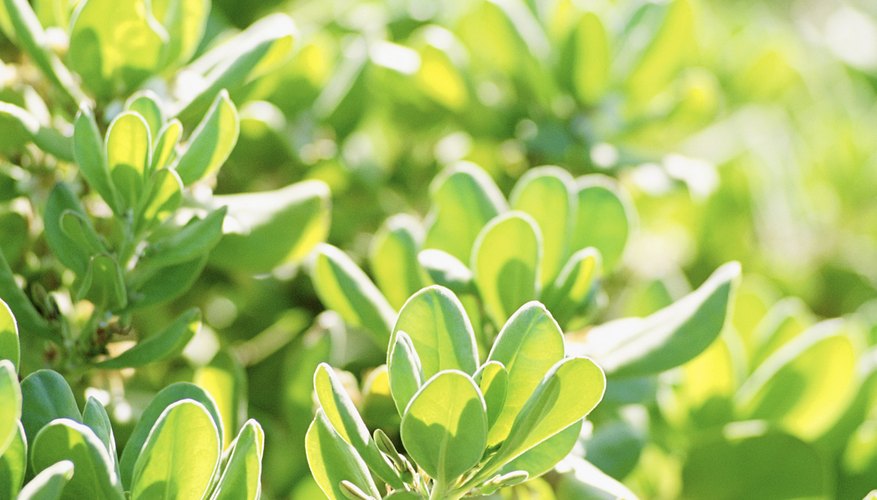 Jupiterimages/Photos.com/Getty Images
Photosynthesis provides plants, fungi, algae and even some single-celled organisms with the energy they need to live. That energy gets passed along to other living beings that consume them. To engage in photosynthesis, organisms make use of water and carbon dioxide from their environments. Photosynthesis does not depend solely on the availability of these materials, however. The amount of sunlight and the amount of other nutrients present affect how productive an organism is through photosynthesis.
Primary Productivity
Through photosynthesis, living organisms convert environmental carbon dioxide and water into glucose, a sugar that fuels life processes. Glucose can be stored and later broken down and incorporated into an organism's tissues, helping it grow. The idea of how productive a living being is through photosynthesis reflects how much organic material it can produce. Because other living beings harness this energy by eating photosynthesizers, this productivity is considered foundational and is called primary productivity.
The Importance of Sunlight
Light provides the energy that drives this glucose-producing reaction. Though artificial light can trigger photosynthesis, as greenhouses demonstrate, in natural environments sunlight is the primary source of this energy. For this reason, most algae and photosynthetic bacteria in the oceans dwell in the upper 200 meters (656 feet) of water, and taller trees might have an advantage in growing foliage over shorter trees below. There is a limit, though; after too much sunlight exposure, some algae instead will produce abnormal compounds that damage their tissues.
The Impact of Nutrients
While sunlight propels photosynthesis, other nutrients support the process as components of the compounds that absorb sunlight's energy, for example, or that speed the reaction along. The lack of such nutrients as iron, magnesium and sulfur has been shown to decrease photosynthesis rates. Low quantities of nitrogen and phosphorus later will prevent a plant from metabolizing glucose. Nutrients are so scarce in parts of tropical oceans that these oceans are considered biological deserts, despite the sunlight they receive.
The Factors That Influence Nutrient Availability
The nutrient content of soil or water, whatever medium in which a photosynthetic being grows, can depend on a number of external factors. Fire and decomposers like insects and fungi break down organic matter and return nutrients to the soil, while in water, currents caused by differences in temperature can affect the distribution of nutrients between the deeper and shallower parts of the ocean. A chain of factors thus influences conditions that directly impact photosynthesis.