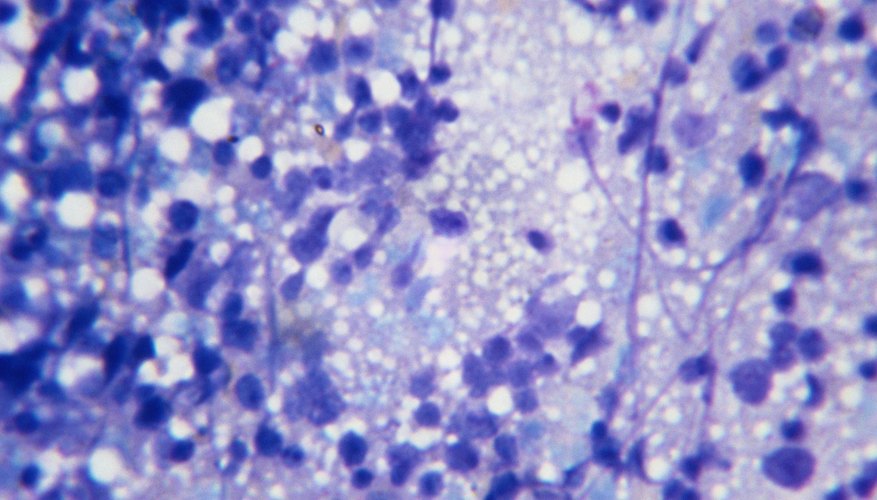 Duncan Smith/Photodisc/Getty Images
The human cell moves by the use of cilia and flagella, organelles which are attached to another organelle, the basal body. The propelling organisms act somewhat like outboard motors, rooted throughout the cell's plasma layer. The cell thus becomes a sort of genetic yacht, moving continually through its protoplasmic sea.
Cilia and Flagella Propel
Propelling cilia and flagella are tiny structures that occupy the surface of the human cell. They are hair-like, and are distinguished by their distribution. Cilia, smaller and squatter in appearance, cover the cell's surface, while flagella, much scarcer on the cellular surface, are longer structures that resemble whips.
Basal Bodies Fasten Propellants
Basal bodies are characteristic of the eukaryotic cells, which are cells enclosed in membranes. Unlike prokaryotic cells, eukaryotic cells contain a nucleus that travels in its cell by means of flagella or cilia propulsion. Cilia and flagella attach to the cell at the basal body, a protein-based organelle -- also known as a modified centriole -- which serves both to create and connect the cilia and flagella to the cell. It anchors the genetic yacht's outboard motors, so to speak, as the cell carries its DNA cargo.