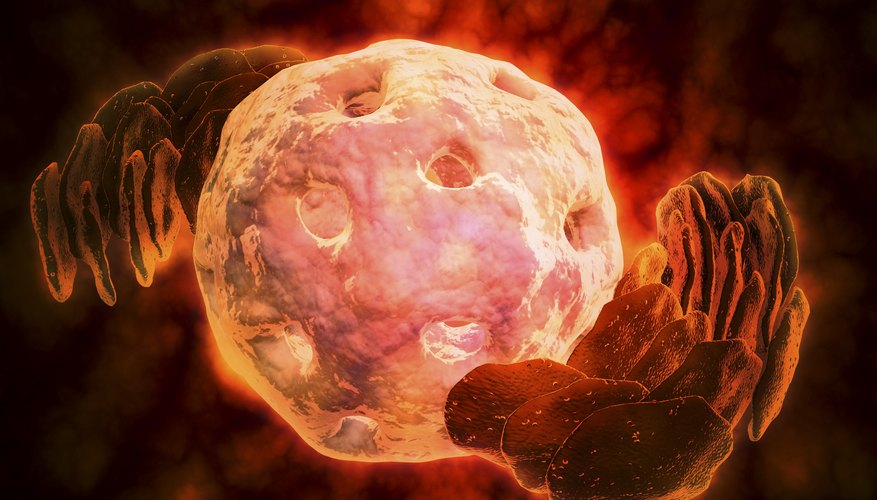 Stocktrek Images/Stocktrek Images/GettyImages
In eukaryotic cells, a number of organelles exist to aid cell function. These include the nucleus, Golgi complex, mitochondria, ribosomes and endoplasmic reticulum, among others. The endoplasmic reticulum (often designated ER) can be found in both animal and plant cells. This fascinating and largest organelle serves numerous functions, such as manufacturing fats and proteins, folding proteins and sorting them.
TL;DR (Too Long; Didn't Read)
The endoplasmic reticulum is the largest organelle in eukaryotic cells. It can be rough and sheetlike, covered with protein-making ribosomes, or smooth and tubular, for making lipids and steroids.
Endoplasmic Reticulum Location
Emilio Veratti first discovered the endoplasmic reticulum in 1902. Eventually George Palade, Keith Porter and others viewed it via electron microscope, uncovering the tubular and folding aspects of this organelle.The location of endoplasmic reticulum (ER) resides within the eukaryotic cell in a continuous bilayer membrane. Part of it can be found alongside the envelope of the nucleus. It resides in folded, crepe-like layers near the Golgi apparatus and nucleus, but it also exists throughout the cellular cytoplasm. Where it connects to the nuclear envelope, the endoplasmic reticulum's location serves as a conduit for the nucleus and the cytoplasm. The nuclear envelope ER consists of two flat ER bilayers that form inner and outer nuclear membranes. The other part of the endoplasmic reticulum is called peripheral ER. Peripheral ER extends from the outer nuclear membrane into the cytoplasm via sheets and tubules. The endoplasmic reticulum location can change to suit varying cellular functions.
Endoplasmic Reticulum Function
The endoplasmic reticulum function ranges from protein production and quality control to lipid and steroid creation, along with detoxification.
Rough endoplasmic reticulum (RER) refers to the portion of endoplasmic reticulum that possesses a coating of many ribosomes, giving it a rough or bumpy appearance. Rough ER is also referred to as sheets, due to the structure of the organelle. The sheets themselves stack together by twisting, and edges of rough ER sheets are helical. The ribosome-coated surfaces face the cytoplasm of the cell. There can be millions of these membrane-bound ribosomes in a cell, and especially in specialized cells such as liver cells. These ribosomes aid in protein assembly by making, folding and modifying proteins for membranes or for secretion. Rough ER identifies the "destination" of proteins and also functions as the spot where the proteins are folded into three-dimensional, functional units. Their special folding associates directly with their functionality (such as a key with a lock). Rough ER also plays a role in quality control of the proteins, in which poorly folded proteins are sent back for recycling or remain stored in the lumen. In the lumen, sugar, carbohydrate or metal groups may attach to the proteins. Proteins that remain within in the lumen are called endoplasmic reticulum resident proteins. They aid the organelle's functions, such as chaperoning poorly arranged proteins or processed proteins. One type of chaperone is BiP, immunoglobulin-binding protein. Rough ER sheets are also found in pancreatic and B cells, and other cells that make large amounts of secretory proteins.
Proteins that have been modified by the endoplasmic reticulum either travel to other parts of the cell, such as vesicles, plant cell vacuoles and lysosomes. Some proteins are delivered to the Golgi apparatus for additional refinement. Because of the endoplasmic reticulum's connection to the nuclear envelope, the nucleus benefits by receiving proteins directly without needing any vesicles. In this way the nucleus can more effectively slow any translation if the endoplasmic reticulum encounters protein backup or folding issues.
Smooth endoplasmic reticulum (SER) is the part of the endoplasmic reticulum that does not possess a covering of ribosomes. Its surface is relatively smooth. Another term for smooth ER is tubular endoplasmic reticulum, due to its branching tubules. There is less of smooth ER than rough ER in general. Rather than the folding envelope construction of rough endoplasmic reticulum, smooth endoplasmic reticulum appears in tubule form and aids in the production of lipids (fats) and steroid hormones. Smooth ER modifies proteins and phospholipids close to the Golgi apparatus, making up the ER-Golgi intermediate compartment or ERGIC. This compartment serves as a major sorting area of the cell. Smooth ER also provides calcium storage and metabolism, and it works to release calcium ions for muscle cell contraction. After proteins are completed in the endoplasmic reticulum, the smooth ER sends them out via secretory vesicles. The cells of the liver contain mainly smooth ER tubules that work to detoxify various products such as alcohol and drugs. The tubules of the smooth endoplasmic reticulum constantly rearrange and grow depending on the cellular process. Organs with high amounts of smooth, tubular ER include the liver, muscles and adrenal glands.
The Unfolded Protein Response
Occasionally the endoplasmic reticulum encounters issues that affect its functions. Some diseases occur due to poor folding of proteins. When protein-folding issues arise or there is too much buildup of proteins, this is considered endoplasmic reticulum stress. As a result of ER stress, the unfolded protein response, or UPR, triggers a chain reaction to slow down the protein manufacture, break down proteins and attempt some equilibrium within the cell. If UPR occurs too often, however, this can lead to cell death. Some influences on ER stress include both internal and external factors. In addition to too many proteins being manufactured, or dysfunctional protein folding, diet can also lead to ER stress. This can lead to diseases such as diabetes.
How Shape Affects Endoplasmic Reticulum Function
As with other cellular organelles and their components, structure directly correlates to the endoplasmic reticulum function. The endoplasmic reticulum is a dynamic organelle. The morphology of the endoplasmic reticulum can change to meet certain demands. The tubules of smooth ER work well for surface related activities, while sheets of the rough ER work better for activities in the lumen. For the peripheral ER, the sheet layers contain luminal spacing ranging from 30 nanometers in yeast to 50 nanometers in animals. These otherwise flat sheets curve at their edges, creating folds. Tubules extend from these sheets and the nuclear envelope, making a highly connected structure. This way the membranes of the endoplasmic reticulum can access different cell areas but still give spaces for other organelle movement. The sheets of rough ER are of course the site of protein translation, translocation, modification and folding. The tubules work to make lipids and send signals between the endoplasmic reticulum and other organelles. The flat surface of rough ER sheets likely provides greater stability for membrane ribosomes than tubules could. If a cell requires more protein secretion, more layers of rough ER sheets exist. Cells that do not secrete many proteins tend to have greater amounts of smooth ER tubules, such as in neurons and muscle cells.
A hybrid sort of endoplasmic reticulum is cortical ER, that part of the ER that connects to the plasma membrane. Here, small molecules pass from the ER to the membrane. The structure of cortical ER displays a mix of characteristics between the tubules and sheets, with both curved and flat areas. In muscle cell cortical ER, the need for rapid calcium ion transfer is answered by the tubular structures that can release the stored calcium from inside the endoplasmic reticulum to other areas.
The peripheral endoplasmic reticulum can change its position in the cytoskeleton to suit different situations. This redistribution occurs mostly via microtubules. The endoplasmic reticulum tubules can slide along microtubules, or ER tubules can be puled behind organelles. Rings of ER tubules can move around the cell as well, like tiny motors. The reason for some of this structural rearrangement is currently being researched.
The endoplasmic reticulum also undergoes structural changes during mitosis. As the nuclear envelope is broken down during early mitosis, the endoplasmic reticulum changes shape. During mitosis the endoplasmic reticulum conforms mostly into sheets; during interphase, a reversion to mostly tubules takes place. Further research is needed to discern the mechanisms of endoplasmic reticulum changes during the cell cycle.
Various proteins maintain the curved structure of ER tubules; these are called reticulons. Reticulons aid in membrane folding via a hairpin morphology. Alternatively, peripheral ER sheets (also called cisternae) may be stabilized by polyribosomes in their sheet structure. One membrane protein, CLIMP63, works to increase the prevalence of ER sheets. Other maintenance and stabilizing proteins aiding ER sheets include p180 and kinectin. Another group of proteins called atalastins helps to regulate the network shape of the endoplasmic reticulum. In contrast, the Lunapark group of proteins works in an opposing manner to the atalastins in shape reticulation. Lunapark proteins help to stabilize the three-way junctions that result from ER tubule fusing and branching. Other proteins, such as DP1 and the REEP proteins, promote tubule development and stabilization. It is therefore clear that interplay of proteins helps to shape the endoplasmic reticulum, and in turn affects its functions. These proteins require further research to discern their methodology.
The maintenance of endoplasmic reticulum structure yields better cell health. When any process is disrupted, mutations and other defects can lead to diseases.
Diseases Associated with Endoplasmic Reticulum Dysfunction
One of the mechanisms leading to emphysema of the lung results from incorrect protein folding in the endoplasmic reticulum. In cystic fibrosis, one missing amino acid leads to an inoperative protein that ultimately is rejected back into the rough ER lumen. A number of diseases are thought to be triggered by ER stress. While UPR (unfolded protein response) serves a protective process to respond to stress, its continual activation leads to problems.
With type 2 diabetes and obesity, a high fat diet triggers ER stress in the hypothalamus. Inflammation from this process signals the central nervous system within a short period of time after consumption of a high fat diet. Glucose intolerance can eventually result. Interestingly, researchers have found that the chaperone protein BiP lowers this type of ER stress in mice.
Another example of endoplasmic reticulum stress on the hypothalamus is Alzheimer's disease. In this diseases, a building up of poorly folded proteins in endoplasmic reticulum leads eventually to the condition. The reticulon proteins play a role in disrupting amyloid levels, leading to the characteristic amyloid plaques found in Alzheimer's. Calcium and phospholipid metabolism and mitochondrial function are also disrupted due to structural changes in the endoplasmic reticulum.
In hereditary spastic paraplegia, another neurological disease, the axons of motor neurons degenerate. This results from mutated proteins associated with the endoplasmic reticulum.
Viruses also directly affect endoplasmic reticulum function. Essentially viruses invade cells and take over the protein-building process of the ER, altering its structure to prevent the cell from defending itself. Viruses thus create a viral protein factory due to this usurpation. RNA viruses particularly alter the endoplasmic reticulum structure by co-opting it to make more RNA via spherules on the outer membrane of the ER. Other viruses outright alter the shape of the endoplasmic reticulum by disrupting the actual proteins. Viruses such as dengue and SARS force the creation of double-membrane vesicles in endoplasmic reticulum membranes.
Scientists continue to learn more about the endoplasmic reticulum function, structure and how its manufactured proteins behave. This should yield more treatments that can fight diseases caused by the disruption of these processes.